4 Energy Stock Stories Enticing Interest For the Weekend
Enbridge Energy Partners (NYSE:EEP): Closing price $29.60
Late Thursday, the Federal Energy Regulatory Commission ruled that Enbridge is permitted to restrict the amount of potentially harmful sulfide gas in crude oil transported on its pipeline into its Bakken rail loading terminal in North Dakota. The firm on May 8th had filed a request to limit the amount of sulfide gas in crude received at its Berthold rail terminal one day after it discovered extremely high levels of the gas in one of its storage tanks three days prior. At Enbridge's request, Plains All American, Murex Petroleum Corp, Hess Corp and Marathon Oil Corp had each filed so-called motions to intervene, some of which cited worries about how it might affect their businesses.
Are these stocks a buy or sell? Let us help you decide.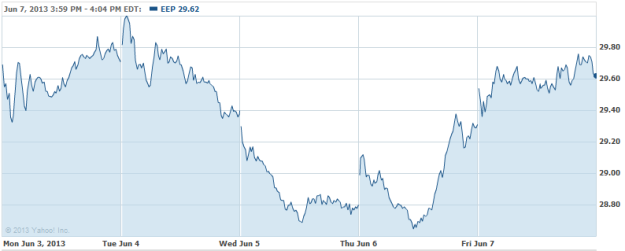 Cheniere Energy (AMEX:LNG): Closing price $28.35
A knowledgeable source said Friday that Cheniere Energy has taken a 50-percent stake in the Octopus LNG project, which is a planned regasification terminal close to the southern Chilean city of Concepcion. The source added that there still exists no firm agreement on LNG supplies to the planned terminal, and discussions continue in regards to the arrangement between Cheniere and Chile's Austalis Power, which is developing the terminal. The newspaper Diario Financiero reported earlier on Friday that Cheniere took the stake in May for $9.85 million, and appointed three members to the firm's board.
Are these stocks a buy or sell? Let us help you decide.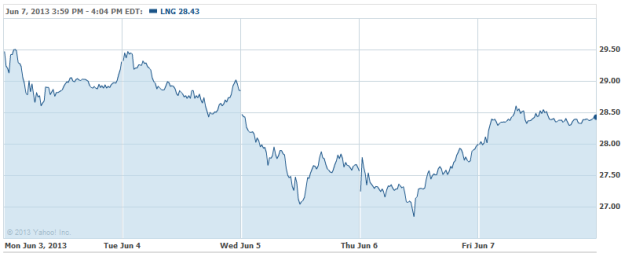 Petrobras – Petroleo Brasilerio (NYSE:PBR): Closing price $16.65
Petrobras anticipates that its Comperj refinery should commence operations in August of 2016, over a year later than was planned. Speaking during an event Friday, Petrobras Chief Executive Maria das Gracas Foster blamed environmental license difficulties and modifications to the refinery's design as being the causes of the delay. The refinery had previously expected to begin processing crude oil in April 2015.
Are these stocks a buy or sell? Let us help you decide.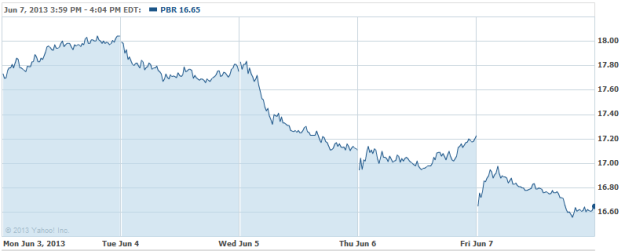 China Petroleum & Chemical Corporation (NYSE:SNP): Closing price $99.33
The oil ministry of Gabon intends to seize an oil field from China Petrochemical Corp.'s Addax Petroleum, while a dispute over output contracts grows worse. The Gabonese Oil Minister Etienne Ngoubou refuses to renew Addax's license at the Tsiengui field because it had violated the law, according to a ministry official on Friday. Gabon has already seized Addax's Obangue field, and two other firms face similar actions, said the official, who would not name them. An Addax representative in Gabon, Gastien Matsanhanga, said that the firm believes the government is in breach of contract over the Obangue takeover in January, saying also that three judges have been appointed to arbitrate on the dispute.
Are these stocks a buy or sell? Let us help you decide. Check out our Stock Picker Newsletter now.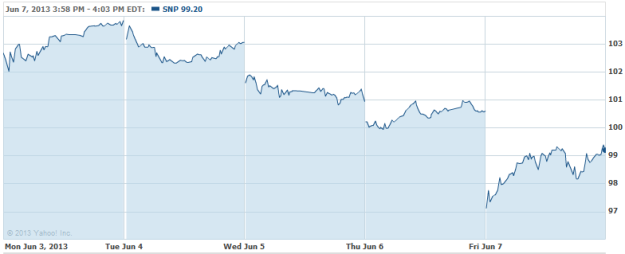 Don't Miss: Will Natural Gas Take Over the U.S. Economy?