4 Energy Stock Stories for a Savvy Midweek Read
Petrobras – Petróleo Brasileiro (NYSE:PBR): Closing price $17.45
Petrobras announced on Wednesday that it has requested the government to return to a transparent domestic fuel pricing policy, following the most recent quarter of bleak earnings. The Brazilian oil behemoth said via a market filing it has proposed a methodology to its government-controlled board that would automatically link domestic diesel and gasoline prices to world prices, without exposing local consumers to the volatility of the concomitant price swings. Petrobras has lost over $14 billion since the beginning of last year in its refining division because of a government policy that pressures fuel prices to contain inflation.

Exxon Mobil Corp. (NYSE:XOM): Closing price $88.85
Exxon Mobil's board on Wednesday declared a cash dividend of 63 cents per share on its common stock, payable on December 10 to  shareholders of record at the close November 12. This fourth quarter dividend is at the same level as the dividend paid in the third quarter.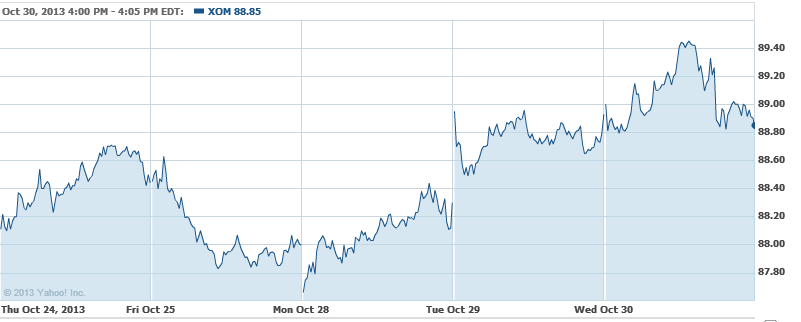 TransCanada Corp. (NYSE:TRP): Closing price $44.95
TransCanada Chief Executive Russ Girling has admitted that opponents of the Keystone XL pipeline have slowed down its approval, although he said that his firm remains committed to the project. In an interview in Washington, he observed that, "There's no question that the noise outside is having an influence on the process. The project has been hijacked by activists that are opposed to the development of all fossil fuels." Girling met with State Department officials in regard to  the project Tuesday, and expressed his frustration with the five-year review by American regulators, saying that the process for examining cross-border energy projects must change.

Marathon Oil Corp. (NYSE:MRO): Closing price $35.75
Marathon, through its wholly-owned subsidiary Marathon Oil KDV B.V., said Wednesday that the Mirawa-1 exploration well has found multiple stacked oil and natural gas producing zones on its operated Harir Block in the Kurdistan Region of Iraq. Located some 40 miles northeast of Erbil, the Mirawa-1 well was drilled to a total depth of around 14,000 feet. Oil and natural gas shows were observed over an extensive gross interval of both Jurassic and Triassic reservoirs from 5,800 feet to total depth. An extensive drill-stem testing program was conducted.

Investing Insights: Will BP Continue to Trade Near Highs for the Year?