4 Energy Stock Stories for a Savvy Weekend Perusal
Royal Dutch Shell Plc (NYSE:RDSA): Closing price $66.07
Subsequent to signing a $10 billion shale gas arrangement with the Ukrainian government this year, Shell expects to commence drilling in the Yuzivska field in 2014. Graham Tiley, the country manager for Shell Ukraine, said in an interview in Kiev on Wednesday that the company will need to drill up to 15 wells to complete the initial exploration appraisal of the 3,100 square-mile Yuzivska field in the eastern part of the country.

Total SA (NYSE:TOT): Closing price $58.81
Chief Executive André Goffart of Total's Canadian division says that his company is enlarging its flagship Joslyn oil sands mine in northern Alberta by a minimum of 50 percent in an effort to spread out costs over larger areas. Goffart also said that Total will request an amendment to existing project approvals by the end of 2013 to boost the scope of the proposed $8 billion mine, increasing planned production to between 150,000 and 160,000 barrels per day from an original design capacity of 100,000 barrels.

Cheniere Energy Inc. (AMEX:LNG): Closing price $38.48
In a regulatory filing on Friday, Cheniere indicated that it has reached a major milestone that will permit it to start talks on new contracts to export liquefied natural gas from Corpus Christi. The owner of the Sabine Pass LNG terminal, which is being built in Louisiana, said that it had received a price for another planned terminal project in Corpus Christi. The contract equates to roughly $800 per ton of liquefaction capacity, a figure that Cheniere had previously expected. The contract pins down the total cost of a facility in Corpus Christi, including financing costs, at approximately $12 billion.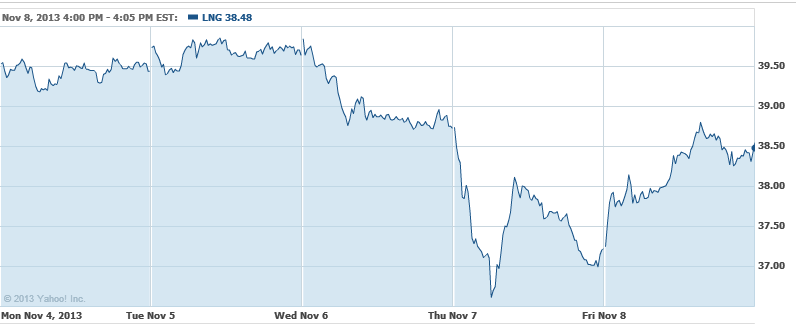 ENI S.p.A. (NYSE:E): Closing price $48.31
According to the Norwegian business daily Dagens Naeringsliv, ENI is insisting upon $10.1 billion from Statoil, alleging that it overcharged for natural gas over several years. Back in August, ENI announced that it had begun arbitration proceedings against Statoil to obtain a significant price cut, but did not supply any details on its claim at the time. Neither Statoil nor ENI could immediately be reached for comment, but a Statoil spokesperson told the paper that he would not comment on individual cases, and that arbitration was only a neutral party review of events due to market conditions.

Don't Miss: Exxon Mobil Faces Oil Spill Penalty, But How Much?