4 Energy Stock Stories for a Thursday Spark
General Electric Company (NYSE:GE): Current price $22.47
The discovery of faulty bolts used in safety equipment has interrupted deep-water oil exploration from the Gulf of Mexico to Brazil. Such energy majors as Chevron Corporation and Royal Dutch Shell report that United States regulators have told them to suspend work on rigs that use GE devices that connect drilling tubes to safety gear and the sea floor. The United States Bureau of Safety and Environmental Enforcement says that the equipment must be retrieved so that defective bolts can be replaced.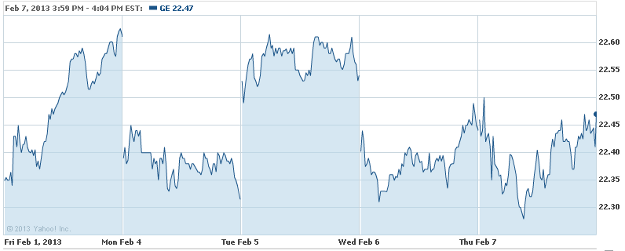 Suncor Energy (NYSE:SU): Current price $32.29
The firm reports that it recently received notification from the Canada Revenue Agency in connection with the income tax treatment of losses incurred in 2007 on the resolution of old Petro-Canada derivatives contracts. Analyst Phil Skolnick at  Canaccord Genuity relayed that, "Essentially, the CRA is challenging tax losses carried forward associated with the loss realized on the settlement of the old hedges that were put in place and settled by Petro-Canada."
Are these stocks a buy or sell? Let us help you decide. Check out our Stock Picker Newsletter now.

BreitBurn Energy Partners (NASDAQ:BBEP): Current price $19.62
BreitBurn said Wednesday that it has begun a public offering of 13 million common units representing limited partner interests in the Partnership. Also, the firm will allow the underwriters a 30-day option to buy up to an additional 1.95 million common units. Net proceeds wil be used to repay indebtedness outstanding under its existing revolving credit facility.

TransCanada Corporation (NYSE:TRP): Closing price $48.36
Chief Executive Russ Girling of Canada's number-two pipeline firm proposed Wednesday to transport oil some 3,000 miles to the Atlantic Coast, enabling producers to get it via tanker to the Gulf. Girling remarked that he anticipates a Congressional passage of Keystone "very soon," but he feels that his planned East Coast route is logical in any event due to rising production from Alberta. He commented that, "It's not a Plan B, it's a Plan A and it will go if the market supports it, along with Keystone. Once you get on tidewater, you can get anywhere and you don't need a presidential permit to bring oil into the Gulf Coast."
Don't Miss: Is Arch Coal a Steal Here?