4 Energy Stock Stories for Investor Appraisal
Eni
(
NYSE:E
): Closing price $52.12
The Italian oil major Eni affirms the
commerciality
of an oil discovery off Ghana, subsequent to an appraisal well finding a large amount of pay. The discovery was made in September, at the block in the Tano basin 50 kilometres offshore,with the Sankofa East X1 well. The firm has now "immediately commenced plans for the commercial exploitation of the oil reserves" at the Sankofa East discovery on the Offshore Cape Three Points (OCTP) Block.
SandRidge Energy (NYSE:SD): Closing price $6.99
The large SandRidge Energy investor Mount Kellett Capital, which holds about 4.5-percent in the company, has asked the board to look into allegations that Chief Executive Tom Ward and a firm run by his son conducted "persistent front running of the company." On Thursday the investor said that it is reviewing allegations by another investor, TPG-Axon, that Ward and his son purchased mineral rights and then sold them to SandRidge or other oil and gas companies at a profit.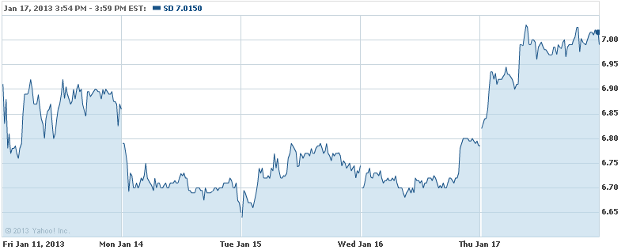 Are these stocks a buy or sell? Let us help you decide. Check out our Wall St. Cheat Sheet Stock Picker Newsletter now >>
Magellan Petroleum Corporation (NASDAQ:MPET): Closing price $1.02
Magellan said Thursday that on January 14th, it entered into a Collateral Purchase Agreement with Sopak, a Swiss subsidiary of Glencore International. Through the terms, Magellan agreed to buy 9,264,637 shares of its common stock and a warrant allowing Sopak the right to purchase an additional 4,347,826 shares. In return, Magellan paid to Sopak $10 million in cash consideration, which was funded from its own balance sheet resources.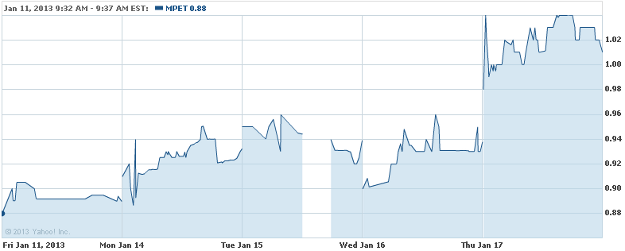 BP (NYSE:BP): Closing price $44.16
The BP Subsidiary BP Exploration & Production, along with federal prosecutors have asked a judge to okay a $4 billion guilty plea for the 2010 Deepwater Horizon blast, in the face of objections from victims who say that the deal is insufficient punishment for the deaths and injuries it caused. The unit agreed in November to plead guilty to 14 counts, including 11 for felony seaman's manslaughter, and pay $4 billion to settle all criminal charges related to the largest offshore oil spill in American history.

Don't Miss: BP Pleads With Judge For This $4 Billion Deal.