4 Energy Stock Stories for Investor Perusal
Chesapeake Energy Corporation (NYSE:CHK): Closing price $18.95
Aubrey McClendon said on Tuesday that he is stepping down from his position with Chesapeake, effective April 1st, because he has "certain philosophical differences with the new Board." In commemoration of the event, the activist investor Carl Icahn, following his contention that the firm needed greater corporate governance controls, praised McClendon, saying in part that "Aubrey has every right to be proud of the company he has built, the world class team of people at Chesapeake and the collection of assets he has assembled, which in my opinion, are the best portfolio of energy assets in the country. While it is known that some of these assets will be sold by the company in due course, I do not believe that this will in any way effect the ultimate realization of Chesapeake's potential."

Markets are at 5-year highs! Discover the best stocks to own. Click here for our fresh Feature Stock Pick now!
Petrobras – Petroleo Brasileiro (NYSE:PBR): Closing price $19.51
The government-run oil giant Petrobras will raise wholesale prices for gasoline and diesel on Wednesday, bringing welcome news to its money-losing refining and supply division, but at the same time the move could accelerate inflation in the midst of weak economic growth, which raising a large cost on many budgets will not help. In a Tuesday filing, the firm said that prices for gasoline and diesel by 6.6 percent and 5.4 percent, respectively, beginning January 30th.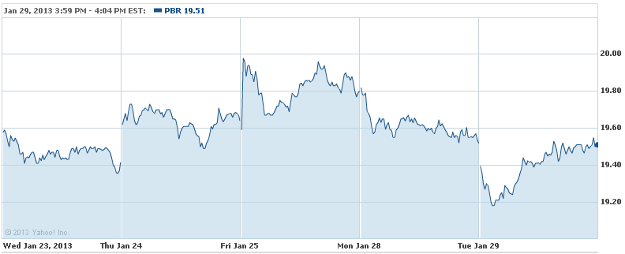 Valero Energy Corporation (NYSE:VLO): Closing price $43.77
Valero President Joe Gorder declares that his firm is thinking about using barges and rail to move Canadian oil to the Gulf Coast, as the United States government mulls approval of the Keystone XL pipeline, which he says would be the most economical option. Gorder's plan entails Valero boosting the amount of Canadian crude it moves by barge to its St. Charles refinery in Louisiana from Hartford, Illinois, which is a delivery point on an existing TransCanada Corporation line. In addition, Valero  owns heated rail cars, and could utilize them to transport Canadian bitumen to Louisiana and Texas.
Teck Resources Limited (NYSE:TCK): Closing price $37.18
A land dispute with Shell Canada endangers the miner Teck 's first standalone oil sands project, contributing uncertainty to its push into energy as waits upon a final decision on a separate joint venture with Suncor Energy. The Vancouver-based diversified miner, which is Canada's largest, is posed with a possible setback over its plans to build a portion of its Frontier oil sands mine on top of neighboring leases owned by Shell Canada.

Don't Miss: Is Coal Set to Burn Higher?