4 Energy Stock Stories for Investor Perusal
Royal Dutch Shell (NYSE:RDSA): Current price $68.56
Shell's search for oil off the Arctic coast of Alaska will face fresh scrutiny by the Interior Department due to a number of  mishaps in 2012, including its losing control of two drilling rigs. Interior Secretary Ken Salazar said that a 60-day examination of drilling in the Beaufort and Chukchi seas will be used in looking at future permits for Arctic exploration. Meanwhile, environmental advocates hope that the review might lead to more robust government rules and even make Shell suspend its efforts.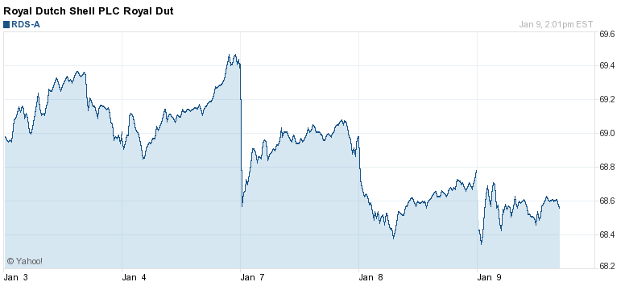 Are these stocks a buy or sell? Let us help you decide. Check out our Stock Picker Newsletter now.
Crosstex Energy (NASDAQ:XTEX): Current price $15.30
On Tuesday, the partnership announced the start of an underwritten public offering of 7.5 million common units representing its limited partner interests. Additionally, Crosstex will allow the underwriters a 30-day option to buy as much as  1.125 million additional common units. Joint book-running managers for the public offering will be Wells Fargo Securities, BofA Merrill Lynch, Citigroup, Morgan Stanley and RBC Capital Markets. At the time of the offering, the partnership will offer 2.7 million common units to certain funds affiliated with Magnetar Capitalin, a privately negotiated transaction.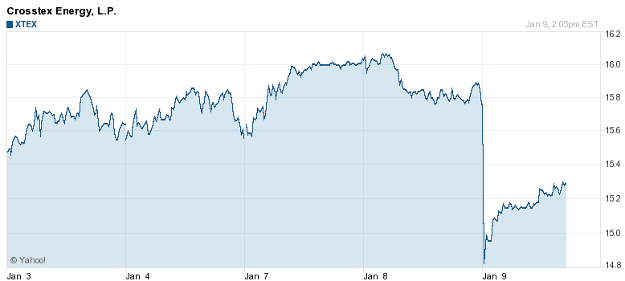 Hess Corporation (NYSE:HES): Current price $55.40
On Wednesday, Hess announced its 2013 capital and exploratory budget of $6.8 billion, which is down by 18 percent from last year's expenditures of roughly $8.3 billion. Out of the $6.7 billion designated for exploration and production, 40 percent, or $2.7 billion, is dedicated to unconventional shale resources with the remainder concentrated upon conventional resources — $1.85 billion for production, $1.6 billion for developments, and $55 million for exploration. As was the practice in recent years, $100 million is budgeted for marketing and refining and corporate use.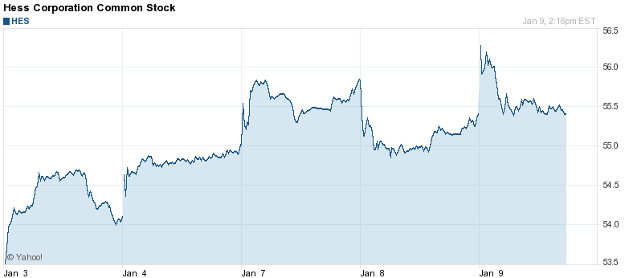 Tesoro Corporation (NYSE:TSO) current price $40.81
On Tuesday, it was announced that Tesoro's 93,500-barrel per day refinery in Kapolei, Hawaii will become the 7th Western Hemisphere facility since 2009 to be closed and converted to an import, storage and distribution terminal. The company had the refinery on the block with the aim of making a deal by the end of 2012. President of Asia Pacific Energy Consulting Al Troner commented that, "The number of potential buyers was not many to start with. It comes down to the idea that you have a distant, small market without much potential to expand. Eventually, the futility of the facility does not bear putting any more investment into it."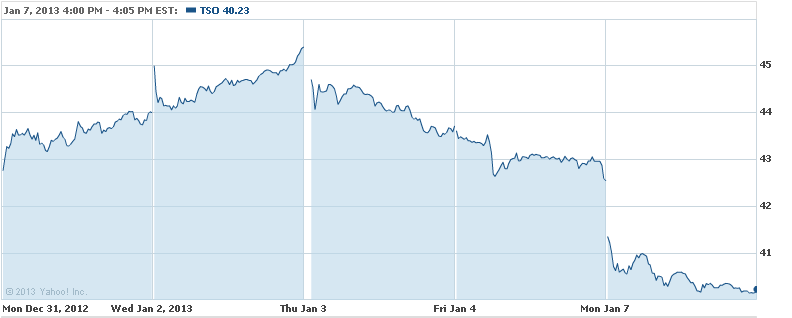 Don't Miss: Is Shell Up to Alaska's Challenge?