4 Energy Stock Stories for the Weekend
BP (NYSE:BP): Closing price $44.48
From a court filing in London, it seems that BP would like a reduction of$3.4 billion in its potential penalty for the oil spill pollution linked with the 2010 Deepwater Horizon oil rig incident. As a rationale, the oil giant is looking for credit on collecting 800,000 barrels of oil from the Gulf, while it faces a whopping potential fine in excess of $20 billion.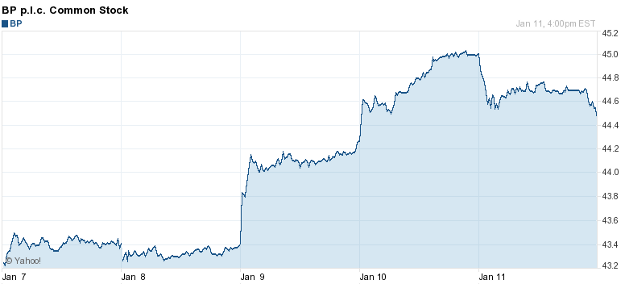 Talisman Energy (NYSE:TLM): Closing price $12.28
The Canadian oil and gas firm Talisman is facing increasing calls for a sale, as analysts become more pessimistic that it can rebound in its outlook; they forecast that its shares will trade at C$14.05 a year from now, which represents the lowest average estimate since 2005 and below its 52-week high. Lanny Pendill at Edward Jones & Co., commented that if the outlook for Talisman doesn't improve, "the likelihood of a takeout or a sale certainly increases. It's time to put up or shut up." However, on Friday shares seemed to revive on the takeover chatter.
Are these stocks a buy or sell? Let us help you decide. Check out our Wall St. Cheat Sheet Stock Picker Newsletter now >>
Chevron Corporation (NYSE:CVX): Closing price $111.73
Chevron anticipates fourth-quarter earnings that are "notably higher" than those of the third quarter, even as the residuals of the August fire at its California refinery lingered. Chevron has benefited from a $1.4 billion asset exchange in Australia, along with West Texas oil field purchases that boosted its oil and gas output.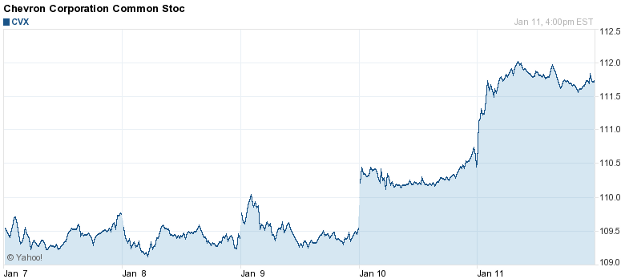 Enbridge (NYSE:ENB): Closing price $44.72
Seaway Crude Oil Pipeline Company, a 50/50 joint venture owned by affiliates of  Enbridge and Enterprise Products Partners (NYSE:EPD), said that service on the 500-mile, 30-inch diameter pipeline between Cushing, Oklahoma and the Gulf Coast resumed on Friday. The pipeline now has an approximate capacity of 400,000 barrels per day available to shippers. Service was suspended on January 2nd, in order for the remaining pump station connections to be completed, permitting capacity to be increased from around 150,000 barrels per day.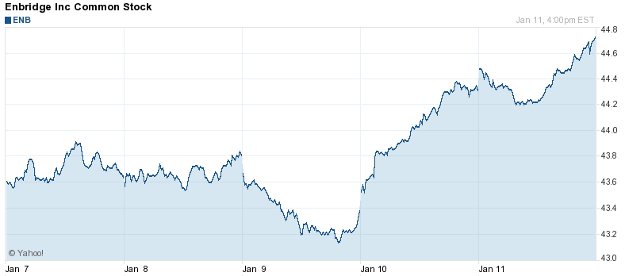 Don't Miss: Here is What's Happening to U.S. Crude.