4 Energy Stock Stories for Weekend Reading
Exxon Mobil Corporation (NYSE:XOM): Closing price $91.73
Apple is no longer the most valuable company on earth, after worries as to its stalling growth pushed its shares to the biggest loss in the Standard & Poor's 500 Index. The company had 12 months and number one, but its decline shrank its market capitalization to $413 billion, and for now at least, ExxonMobil is the new most valuable company with its market cap at $418 billion.

Markets are at 5-year highs! Discover the best stocks to own. Click here for our fresh Feature Stock Pick now!
Zion Oil & Gas (NASDAQ:ZN): Closing price $1.20
In its weekly newsletter, Zion said (in part), that "We are in the process of re-evaluating our exploration strategy going forward. We have now re-evaluated our Asher-Menashe, Joseph, and Jordan Valley License areas, incorporating fairly recently acquired geological and geophysical data. We do not expect to drill a new exploratory well within the first half of 2013 but we hope to drill our next exploratory well towards the end of 2013 or in 2014."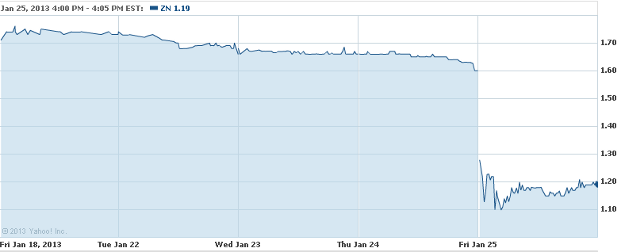 Consolidated Edison (NYSE:ED): Closing price $56.49
Con Edison, which owns of the utility that provides power to New York City, has requested that state regulators okay rate hikes to assist in paying for $1 billion in investments to protect the power network in the wake of Sandy. If the proposal is approved by the New York Public Service Commission, the average electricity bill would increase by 3.3 percent. President Craig S. Ivey of Con Edison released a statement which said in part, "The increased frequency and damage of storms assaulting our area presents a major challenge. We must invest in our systems in new ways to maintain the safe, reliable service our customers deserve."
Royal Dutch Shell (NYSE:RDSA): Closing price $71.40
Chief Executive Peter Voser wants the United States to maintain a
relatively low level
of liquid natural gas exports at about 50 million tons per year, at least for now, so that industrialization in the country can continue apace. In an interview with Bloomberg TV, Voser remarked that "Exports will happen, but I hope that the US will actually keep most of the gas back home because it will help them to industrialize parts of the US more, adding that "Some forecasts put the US' LNG-export capacity at around 120 million."

Investor Insight: The Fed's Balance Sheet: $1 Trillion…$2 Trillion…$3 Trillion.