4 Energy Stock Stories for Your Weekend Review
Royal Dutch Shell (NYSE:RDSA): Closing price $67.46
On Friday it was decided that Alaska oil and gas property tax will not pertain to Shell's Kullik drillship, which has been anchored off Kodiak Island, according to Jim Greeley, petroleum property assessor for the state Department of Revenue. The tax question became a national matter in January, when the top Democratic member on the House of Representatives Natural Resources Committee contacted Shell, accusing it of having moved the Kulluk drillship at least partly for tax reasons. But Shell will not be assessed that tax for the drillship, which had escaped its tow lines and ran aground near Kodiak Island on December 31st.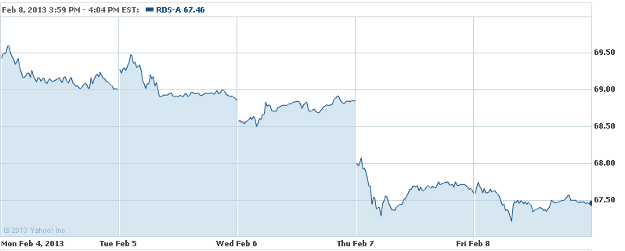 Exxon Mobil Corporation (NYSE:XOM): Closing price $88.54
James Jeffrey, a former United States ambassador to Iraq, has been recruited by Exxon Mobil as a consultant in its quandary over whether to operate in the south of that country, or honor its arrangements with the autonomous Kurdistan region. In January, the Iraqi Prime Minister Nuri al-Maliki made Exxon an offer in an effort to bring back the company, which had seemed to be intent on exiting the $50 billion West Qurna 1 oilfield which is under the central government's jurisdiction. Industry sources affirm that Malik's offer was 'substantial', but specifics are unknown; the crucial condition is that Exxon leave the northern Kurdish region.
TransCanada Corporation (NYSE:TRP): Closing price $48.55
The Canadian Foreign Minister John Baird and his counterpart United States Secretary of State John Kerry met on Friday, but gave no substantial clues as to the fate of Keystone XL. An approved project would transport crude oil from the oil sands in Alberta to the Gulf Coast, but the two premiers held what was essentially an introductory meeting, agreeing upon the need to work together and that sort of thing. Kerry did say that Hillary Clinton had formed a process through which to review the Keystone matter, and he would follow that and have a decision perhaps in the near term.

Chevron Corporation (NYSE:CVX): Closing price $115.50
Chevron said that an international arbitration tribunal found that the Republic of Ecuador has violated the tribunal's previous Interim Awards authorized under international law and a treaty between the United States and Ecuador, by not preventing the attempted enforcement of a $19 billion ruling against Chevron.