4 Energy Stock Stories Fueled for a Weekend Read
BP Plc (NYSE:BP): Closing price $41.94
BP said that it has commenced appraisal drilling in its highly promoted Tiber oil prospect in the Gulf of Mexico, over three years after its Macondo blowout and crude spill that set back drilling in the region. The oil major confirmed that drilling started on August 3. Chief Executive Ryan Lance of ConocoPhillips, which is a minority partner in Tiber, disclosed the news to analysts during a webcast presentation at the Barclays Energy-Power Conference in New York, saying that, "We are appraising the Tiber discovery, which was made pre-incident in the Gulf of Mexico."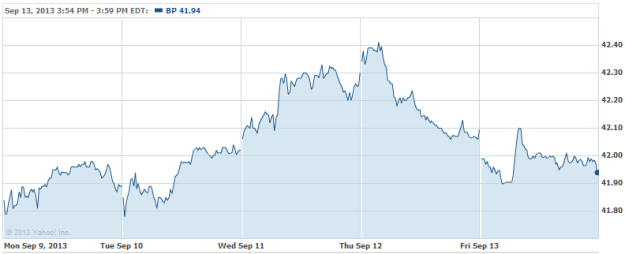 Royal Dutch Shell (NYSE:RDSA): Closing price $65.49
A couple of sources report that Shell and India's ONGC will exercise their pre-emption rights to acquire a 35-percent interest in a Brazilian oil block that Petrobras had intended to divest to China's Sinochem Group. Petrobras is ridding itself of non-core assets to help finance a $237-billion, five-year investment plan. In August, it agreed to sell its interest in block BC-10, known as Parque das Conchas, in the Campos Basin for $1.54 billion to Sinochem Group.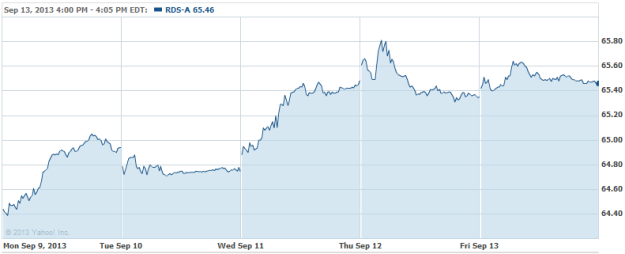 TransCanada Corp. (NYSE:TRP): Closing price $43.90
TransCanada has resolved a dispute with eastern gas distributors concerning mainline tolls and has withdrawn a $4.5-billion lawsuit filed against its competitor Enbridge Inc. However, a dispute with Gaz Metro, Union Gas Ltd. and Enbridge Gas Distribution is unresolved, regarding plans to convert parts of the cross-country pipeline to transport Alberta and Bakken crude oil from North Dakota to Canada's East. TransCanada said on Friday it had reached a distribution accord that would permit the development of capacity additions between the Dawn hub in southwestern Ontario and the Toronto region.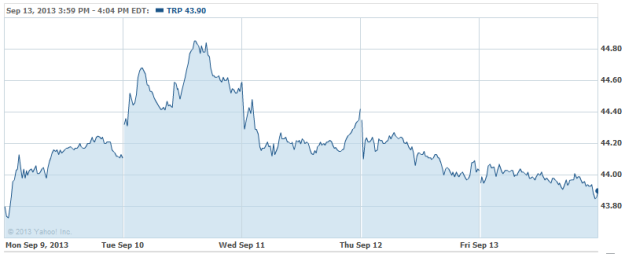 Occidental Petroleum Corp. (NYSE:OXY): Closing price $89.49
The number one producer in the continental United States has begun searching out suitors to take a minority interest in its Middle East business for up to $8 billion, according to knowledgeable sources. Chief Executive Stephen Chazen has held discussions with sovereign wealth funds and possible strategic partners for a 40 percent position in the Mideast unit, whose value he places at $20 billion, said the sources, relating that the CEO is conducting the talks personally and is not at this time working with bankers.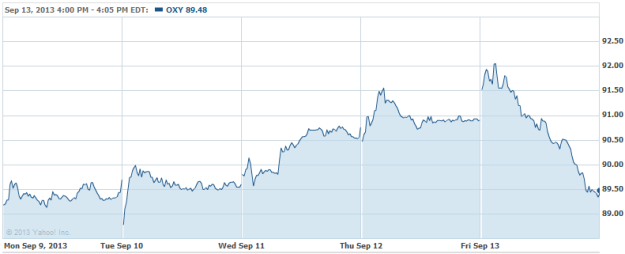 Don't Miss: Exxon Mobil Faces Criminal Charges That Concern the Fracking Industry.