4 Energy Stock Stories Gaining Midweek Traction
Petrobras – Petróleo Brasileiro (NYSE:PBR): Closing price $15.69
Petrobras President Gracia Foster said Wednesday that the company has sufficient funds on hand to pay its share of a large government fee for operations at its Libra offshore "pre-salt" oil field, and thus it will not be necessary to request a fuel-price rise to meet the obligation. Speaking subsequent to a meeting with Brazilian Finance Minister Guido Mantega, Foster told reporters that the firm had the required $2.75  billion available for the payment, and that Petrobras would be able to meet its funding obligations through the end of 2013, remarking that, "Petrobras will be able to pay the $2.75 billion without a [fuel price] re-adjustment."

Exxon Mobil Corp. (NYSE:XOM): Closing price $87.57
Oil and gas output has started from ExxonMobil's Kipper-Tuna-Turrum project in Bass Strait offshore Victoria state. Gas is moving from the Tuna field while Turrum has produced its first oil. The Tuna oil reservoir has been online for several years, but as part of the new Kipper-Turrum development, it was determined to produce the Tuna gas cap as well, which has been done by converting the existing West Tuna facilities and employing two new pipelines to deliver the gas into the existing Bass Strait gas-gathering grid.

Baker Hughes Inc. (NYSE: BHI): Closing price $56.20
On Wednesday, Baker Hughes announced that it has reached a long-term Oilfield Service Agreement with PETRONAS Carigali Sdn. Bhd. to improve the recoverable reserves and production of hydrocarbons in the Greater D18 fields, offshore Malaysia. The 23-year accord results from of a collaborative, 2 1/2-year field development study, leveraging Baker Hughes' reservoir evaluation capabilities in order to analyze the geology and reservoir attributes of the mature and compartmentalized D18 field.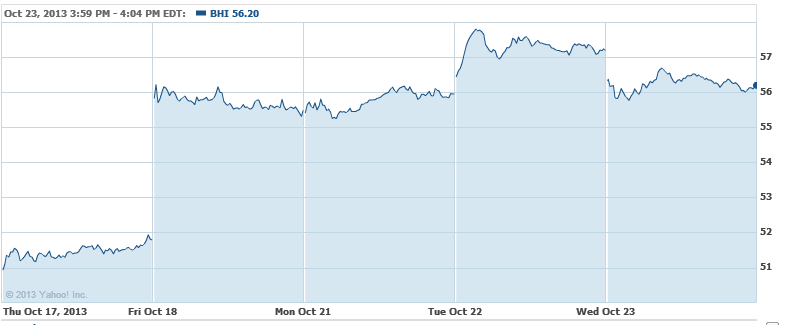 Bill Barrett Corp. (NYSE:BBG): Closing price $26.33
The corporation announced Wednesday that it will divest its West Tavaputs natural gas property located in the Uinta Basin, Utah. Total consideration, before the customary closing adjustments, is $371 million and includes roughly $46 million for the purchaser's assumption of the lease financing obligation for compressor units on the property. The transaction should close before the end of 2013.

Don't Miss: Here's How BP Is Drilling in Iran Despite EU Sanctions.