4 Energy Stock Stories Getting Big Headlines
ConocoPhillips (NYSE:COP): Closing price $72.32
On Wednesday, Conoco announced first gas output from the Jasmine field in the United Kingdom, Central North Sea on November 19. The startup of Jasmine marks another important milestone for ConocoPhillips, and expands upon the recent successful startup of Ekofisk South in Norway and the Christina Lake Phase E oil sands project in Canada, said Executive Vice President, Exploration, and Production, Matt Fox. Jasmine is one of a number of major growth projects that will contribute to ConocoPhillips' 3 to 5 percent output growth rate through 2017.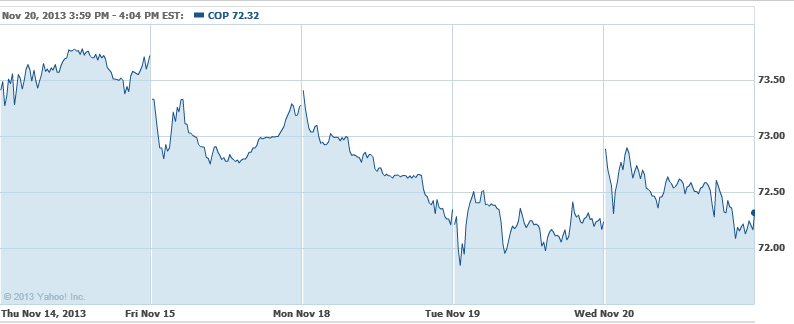 Halliburton Co. (NYSE:HAL): Closing price $53.56
Chief Financial Officer Mark McCollum said Tuesday at a Houston energy conference that his company will be an active dealmaker when the unconventional oil and gas sector consolidates, but at the same time, it will be selective when it comes to the potential opportunities. Halliburton acquires between 10 to 15 companies per year, and expects its level of spending to continue, according to McCollum, who spoke at the 2013 Deloitte Oil & Gas Conference. The CFO also said that the firm will be discerning about deals, looking intensely at the value provided by a potential purchase, and the way in which it fits into Halliburton's broader strategy.

China Petroleum & Chemical Corp. (NYSE:SNP): Closing price $89.23
British Columbia's Minister of Natural Gas Development Rich Coleman says that China's Sinopec Corp is in serious discussions on a site for a potential liquefied natural gas export terminal. Coleman told reporters that the Chinese company had explored quite a few sites in the province and had also entered partnership talks with another firm. The Minister observed that, "All we know at this point in time is they've entered discussions on a site with another partner. We don't have the details of those discussions. We just know they are here seriously looking for an opportunity."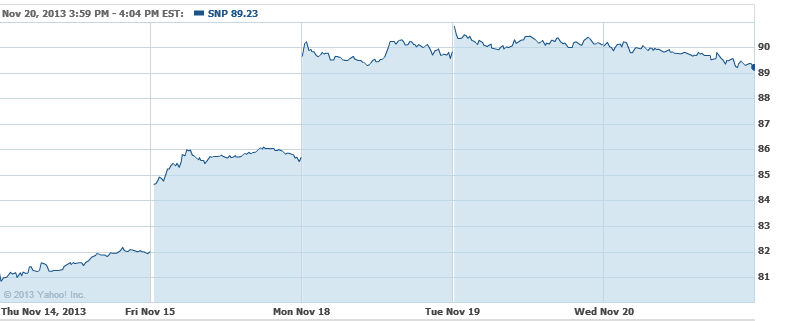 McDermott International Inc. (NYSE:MDR): Closing price $7.88
McDermott said on Wednesday that one of its subsidiaries was awarded an Engineering, Procurement, Construction, and Installation project for a customer in the Arabian Gulf. The value comes to roughly $200 million and will be included in McDermott's fourth-quarter backlog. Included in the deal is the fabrication, transportation, and installation of offshore facilities, including two production deck modules and ten observation platforms. The agreement also includes works for two subsea pipeline installations, three submarine power cables and two fiber optic cables.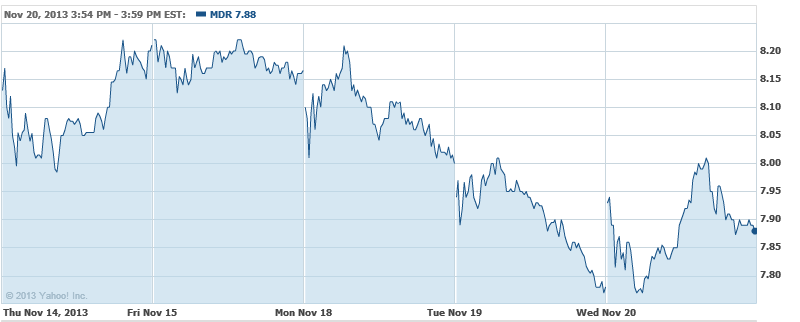 Don't Miss: How Halliburton's SCOTUS Case Threatens Investor Protections.