4 Energy Stock Stories Igniting Thursday Investment Chatter
Chevron Corp. (NYSE:CVX): Closing price $121.37
Nigeria's government oil company has warned investors who may be interested in three shallow water oil blocks offered for sale by Chevron, that buyers could lose the right to operate them. Chevron is divesting minority interests in joint ventures that operate five oil blocks; the majority owner is the Nigeria National Petroleum Corp. Nigeria prefers a more direct ownership of its oil and gas via NNPC or local firms, prompting a number of oil majors, including Chevron, to dispose of assets in Africa's number-one oil and gas producing nation.
Are these stocks a buy or sell? Let us help you decide.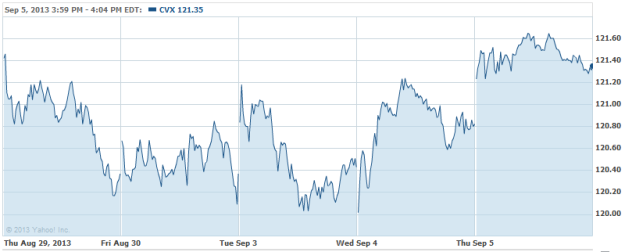 Petroleo Brasileiro – Petrobras (NYSE:PBR): Closing price $14.56
UBS AG says that Petrobras, Brazil's state-run crude producer, risks losing shareholder value from developing the country's biggest oil discovery, because high costs and taxes are cutting into returns. UBS analysts led by Lilyanna Yang wrote in a note to clients that Petrobras could lose up to 64 cents per share from its position in the Libra field might hold as much as 12 billion barrels of recoverable crude. A signing bonus of $640 million for Petrobras and its partners will push the company's cash flow, said UBS. Petrobras, as the worst performing oil firm with a market value of over $50 billion this year, will have a minimum of a 30-percent stake in Libra and still be in charge of operations, according to Brazilian law.
Are these stocks a buy or sell? Let us help you decide.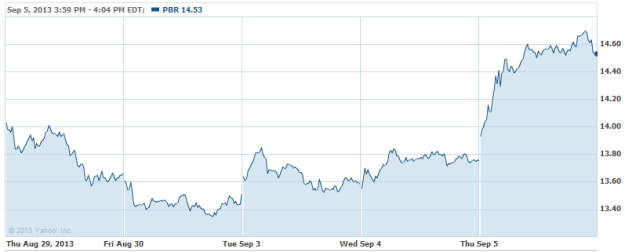 Statoil ASA (NYSE:STO): Closing price $22.14
Statoil's chief of development and production in Norway Oeystein Michelsen, told Reuters that ongoing technical difficulties at the big Troll gas field in the Norwegian North Sea will cut into Statoil's ability to produce gas there until next summer. The oil firm reported in January that it had a problem with the motor on a compressor at Troll, Norway's largest gas field. A start-up on the compressor has been postponed a number of times, and it has not been certain when it would restart. Michelsen observed that "We have a reduced flexibility on Troll for the time being and it will take a long time to get back to full flexibility."
Are these stocks a buy or sell? Let us help you decide.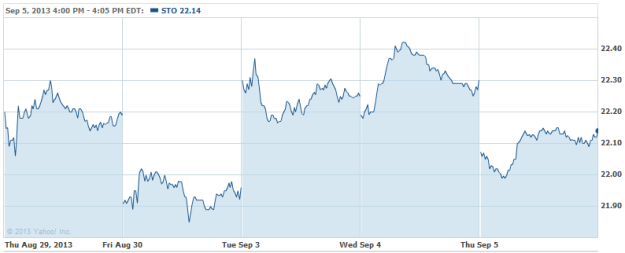 Total SA (NYSE:TOT): Closing price $55.26
The corrosive drilling fluid that caused the North Sea's worst gas leak in 20 years might threaten similar deep-sea wells globally, and the operator Total has already warned Royal Dutch Shell that its neighboring Shearwater field could be at risk. The fluids implicated in the leak at Total's Elgin field, like calcium bromide, are typically used in such deep-sea wells, and experts worry about a recurrence as operators, under pressure to outweigh slumping output from conventional reservoirs, turn to deeper, hotter and higher pressure fields.
Are these stocks a buy or sell? Let us help you decide. Check out our Stock Picker Newsletter now.