4 Energy Stock Stories Igniting Tuesday Chatter
Chevron Corporation (NYSE:CVX): Closing price $121.52
The American oil giant said Tuesday that it is divesting five Nigerian shallow-water oil blocks, making Chevron the most recent oil major wishing to dispose of assets in Africa's biggest oil producing country. In recent years, Royal Dutch Shell, Eni, and Total have sold off a number of Nigerian onshore blocks, while ConocoPhillips  is selling its Nigerian operations to Oando Energy for around $1.79 billion. Nigeria wants more direct ownership of its oil and gas resources, either through the state oil company, or local firms, igniting fears among foreign oil majors that they may lose smaller assets for nothing if they don't sell now, according to industry experts.
Are these stocks a buy or sell? Let us help you decide.

BHP Billiton (NYSE:BHP): Closing price $62.60
BHP is returning to plans to develop a coking coal deposit in Australia, while it minimizes the strength of extra demand for that commodity from China in the middle of an expected steel glut in Asia. BHP Billiton Mitsubishi Alliance, a joint venture known as BMA, which operates six coking coal mines in Queensland, has pulled back proposals for a new mine with an output of as much as 14 million metric tons of coking coal per year and intends to employ the Red Hill resource in the Bowen Basin to enlarge existing nearby pits instead. The move reflects how firms such as BHP are moving to tighten control of costs, while retaining exposure to rapidly-growing demand for coal in Asia. BHP believes that a lot of China's future demand growth for coking coal will be addressed by domestic mines, but it has specified India as a growing market for imports.
Are these stocks a buy or sell? Let us help you decide.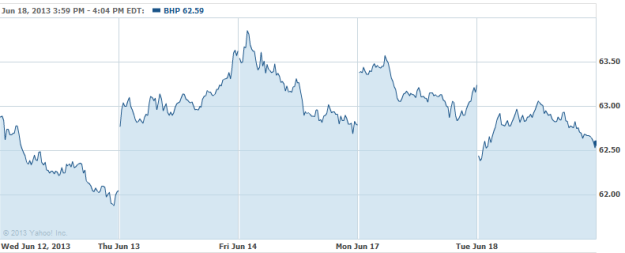 Chesapeake Energy Corporation (NYSE:CHK): Closing price $21.25
Chesapeake has named Patrick Craine, a partner with the law firm Bracewell & Giuliani, and former attorney in the Security and Exchange Commission's Fort Worth office, as its chief compliance officer. In a statement, the company's new Chief Executive Doug Lawler said that Craine was hired to complement Chesapeake's regulatory and legal compliance endeavors. Aside from that, the firm hired Craine in 2012 to address the SEC's investigation into a controversial perk that granted former Chief Executive Aubrey McClendon a share in each of the firm's wells, according to a number of inside sources.
Are these stocks a buy or sell? Let us help you decide.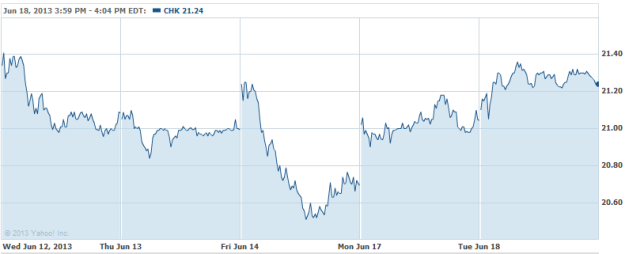 Tesoro Corporation (NYSE:TSO): Closing price $57.11
Tesoro announced on Monday that it has concluded an agreement to sell Tesoro Hawaii, which operates the 94,000 barrel-per-day Kapolei refinery, together with dozens of retail gas stations, to the subsidiary of Texas-based Par Petroleum, Hawaii Pacific Energy, for almost $400 million. The company said that the sales price of the Hawaii operations is $75 million, plus the market value of net working capital, which should come to between $225 million to $275 million. Also included is an earn-out arrangement payable over three years of as much as $40 million, based on consolidated gross margins, according to Tesoro. The transaction should close during the third quarter.
Are these stocks a buy or sell? Let us help you decide. Check out our Stock Picker Newsletter now.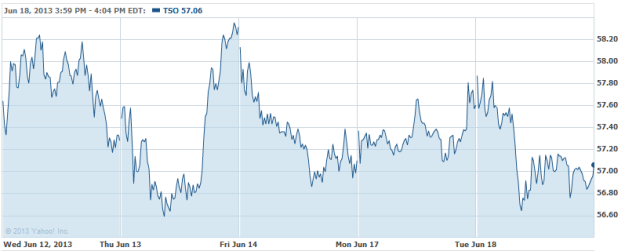 Don't Miss: As U.S. Energy Boom Begins, Is Exxon a Good Buy?