4 Energy Stock Stories In The Monday Headlines
Exxon Mobil Corporation (NYSE:XOM): Closing price $91.53
The ExxonMobil subsidiary XTO Energy reported Monday the initiation of a 340-acre facility in southwestern Pennsylvania with which to recover marketable liquids from the natural gas produced in Butler County. The facility marks the first of its kind for XTO in the Appalachia region, and includes connecting a pipeline of a length of 40 miles. Two gas compressor stations feed the facility, which was created to treat about 125 million cubic feet of natural gas per day. The installation will add value to XTO and Butler County, according to Senior Vice President, Production Operations Tim McIlwain for XTO, as it permits valuable liquids to be separated from natural gas, and provides economic growth in southwestern Pennsylvania. XTO will hire 15 permanent employees to run the operation.
Are these stocks a buy or sell? Let us help you decide.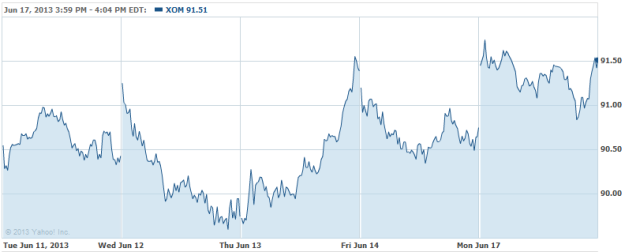 Chevron Corporation (NYSE:CVX): Closing price $121.22
The number-two domestic oil company is offering $6 billion of bonds in its first sale of 2013. A knowledgeable source said that Chevron might issue $750 million of three-year notes to yield 40 basis points over similar-maturity Treasuries, $2 billion of five-year securities with a relative yield of 65 basis points, $1 billion of seven-year debt at an 85 basis-point spread, and $2.25 billion of 10-year bonds at 100. The firm has canceled plans to offer floating-rate notes due in 2016 and 2018. It is anticipated that the bonds will be rated Aa1 by Moody's Investors Service, and might be sold as soon as Monday, according to the source. Proceeds will be employed to refinance commercial paper.
Are these stocks a buy or sell? Let us help you decide.

Statoil (NYSE:STO): Closing price $22.25
Early Monday, output at the Norwegian Oseberg field and a number of adjunct fields in the North Sea was shut, and it was not clear when it would restart, said its operator Statoil. At about 5 a.m. Greenwich Mean Time, an alarm sounded at the Oseberg field center, obliging the staff to go to the lifeboats and production to cease. Statoil spokesman Ola Anders Skauby reported that "All Oseberg installations are down at the moment. Oil was observed on deck (of the platform). We need to identify the reasons before we can restart production." The Oseberg field center processes oil and gas coming from the Oseberg, Oseberg Oest, Oseberg Soer and Tune fields. All told, Oseberg, Oseberg Soer and Oseberg Oest produced 3.5 million barrels of oil, and roughly 500 million cubic meters of gas in April, said data from the Norwegian Petroleum Directorate.
Are these stocks a buy or sell? Let us help you decide.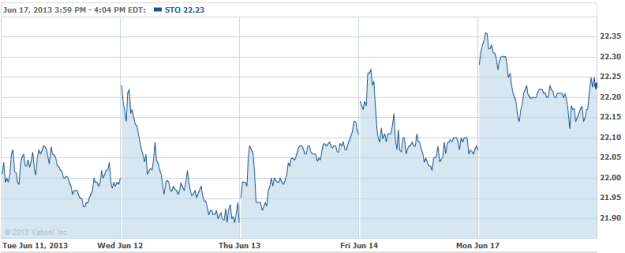 Tesoro Corporation (NYSE: TSO): Closing price $57.61
Tesoro and one of its subsidiaries will divest their light petroleum products terminal in Boise so as to resolve Federal Trade Commission charges that their $335-million purchase of pipeline and terminal assets from Chevron Corporation would harm competition. Should the divestitures required by the FTC not take place, the deal would have given Tesoro ownership of two of the three full service light petroleum terminals in Boise, which would have meaningfully reduced competition for local terminal services.
Are these stocks a buy or sell? Let us help you decide. Check out our Stock Picker Newsletter now.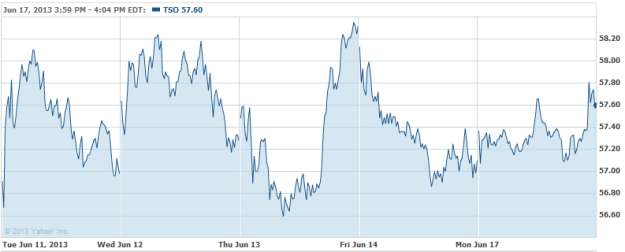 Don't Miss: Are India-Iran Energy Ties Unsettling Washington?