4 Energy Stock Stories Kicking Off the New Trading Week
BP (NYSE:BP): Closing price $41.36
The oil minister Abdul Kareem Luaibi of Iraq said on Saturday that BP is interested in participation in the redevelopment of Iraq's huge Kirkuk oil field, which is deteriorating from falling production. Output at Kirkuk, discovered in 1927, has fallen to 260,000 barrels per day from 900,000 barrels a day in the early 2000s, subsequent to years of injecting water and the dumping of unwanted crude and other oil products into the field's reservoir. BP is one of a number of global oil firms already redeveloping other old oil fields in Iraq. Baghdad has agreed to a series of contracts with world oil majors to boost Iraq's output to 12 million barrels per day by 2017, which would be sufficient to make it the largest-producing country on the planet.
Are these stocks a buy or sell? Let us help you decide.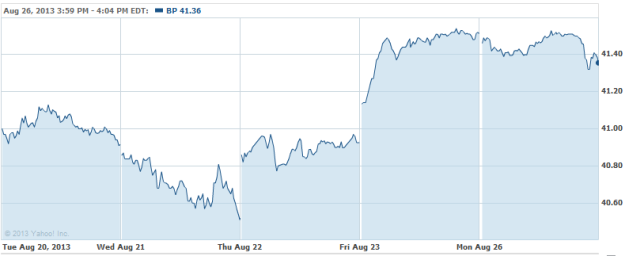 ONEOK Partners LP (NYSE:OKS): Closing price $49.73
On Monday, ONEOK said that it will spend roughly $440 million in the natural gas liquids-rich area in the Powder River Basin of Wyoming, to acquire a 50-million cubic feet per day natural gas processing facility the Sage Creek plant, and connected natural gas gathering and natural gas liquids infrastructure in western Converse and Campbell Counties, Wyoming, for $305 million from an undisclosed seller. The company also intends to invest $135 million to upgrade and build natural gas gathering and processing related infrastructure, NGL gathering pipelines and well connections.
Are these stocks a buy or sell? Let us help you decide.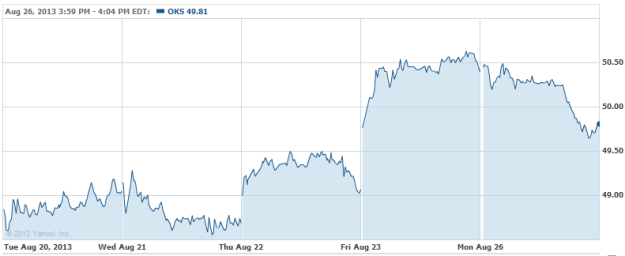 Petrobras – Petroleo Brasilerio (NYSE:PBR): Closing price $14.56
The Brazilian Finance Minister Guido Mantega said at a news conference on Monday that the government has not come to a decision so far on a possible rise in wholesale fuel prices. Mantega observed that "There is absolutely no decision as yet on this question." Earlier in August, the Brazilian state-controlled oil firm Petrobras, appealed to the government for an increase in wholesale prices of fuels like gasoline, diesel and others; the prices are among the few prices still directly set by Brazil's government.
Are these stocks a buy or sell? Let us help you decide.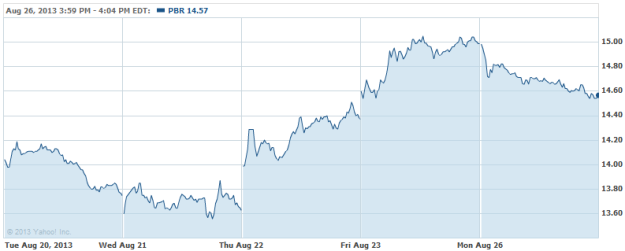 Genesis Energy, LP (NYSE:GEL): Closing price $48.75
Genesis said Monday that it has finished engineering work, filed all required permits, executed the necessary railroad agreements, and is poised to begin construction on a new crude oil unit train unloading facility that is capable of unloading up to two unit trains per day, located in Raceland, Louisiana, about 20 miles southeast of St. James (Raceland Rail Facility). The Raceland Rail Facility will at first be connected to the existing midstream infrastructure that will allow direct pipeline access to both St. James and Baton Rouge area refineries.
Are these stocks a buy or sell? Let us help you decide.