4 Energy Stock Stories Making a Buzz
Chevron Corp. (NYSE:CVX): Closing price $119.51
Chevron's Canada unit president, Jeff Lehrmann, says that the energy major could sanction its Kitimat LNG plant in the next 12 to 18 months, but it first needs to nail down sales contracts with buyers and fiscal terms with the government in British Columbia. Ten projects to cool and condense gas into a liquid fuel have been proposed for the West Coast of Canada; producers like Royal Dutch Shell, Malaysia's Petronas, and ExxonMobil Corp. want to exploit the gulf between low North American gas prices and the premiums paid for the heating fuel in Asia. The British Columbia government has endeavored to reassure investors after upsetting the upstart export industry with plans for a tax that could generate a minimum of $100 billion over 30 years.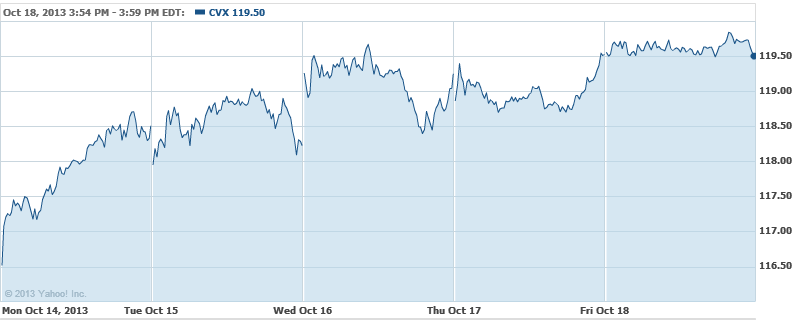 TransCanada Corp. (NYSE:TRP): Closing price $44.06
TransCanada on Thursday announced that a natural gas pipeline serving northern Alberta's Athabasca oil sands region might have ruptured. In a notice on its website, the company reported that it was alerted to the possible rupture in the area of its Woodenhouse and Buffalo Creek North compressor stations early on Thursday. Staff are working to confirm the location of the break, which is impacting line pressures in the Fort McMurray oil sands region.
Callon Petroleum Co. (NYSE:CPE): Closing price $6.59
Callon said Thursday that its subsidiary, Callon Petroleum Operating Co., will sell its interests in the Medusa field and Medusa Spar LLC, and substantially all of its Gulf of Mexico shelf assets to W&T Offshore, Inc. for a total cash amount of $100 million. The effective date of the transaction is July 1, 2013, and should close on or before November 30, subject to the usual closing conditions.

Continental Resources Inc. (NYSE:CLR): Closing price $117.62
Continental Resources CEO Harold Hamm told the Bloomberg Oil & Gas Conference in Houston on Thursday that the prolific United States Bakken shale will ultimately produce as many as 2 million barrels per day of oil. Hamm said: "We still see the technology developing. Completions are better. We've climbed the learning curve a long ways." The CEO thinks the industry has made it 75 percent of the way to optimizing the prospect.

Don't Miss: Here's How Treasury Secretary Jack Lew Lit a Fire Under Congress.