4 Energy Stock Stories Making a Monday Buzz
Chevron Corp. (NYSE:CVX): Closing price $117.94
On Monday, United States District Judge Lewis Kaplan said that the Ecuadorean villagers and their attorney Steven Donziger are not entitled to a jury, since Chevron is not seeking damages claims against them. Rather, Kaplan will rule on the trial himself. Chevron claims that the villagers and their lawyer used fraud and bribery to obtain an award in an Ecuadorean court in 2011. At the trial in federal court in New York that commences on October 15, Chevron wants to prevent them from profiting from the award.

Kinder Morgan Energy Partners, L.P. (NYSE: KMP): Closing price $79.52
Kinder Morgan said Monday that commercial operations are ongoing for phase one at the 185-acre Battleground Oil Specialty Terminal Company project on the Houston Ship Channel. Roughly 20 of the 51 storage tanks constructed during phase one construction are being placed online in October, and the remaining tanks will follow during the next six months. A two-berth ship dock and 12 barge berths are also set to be in service this month.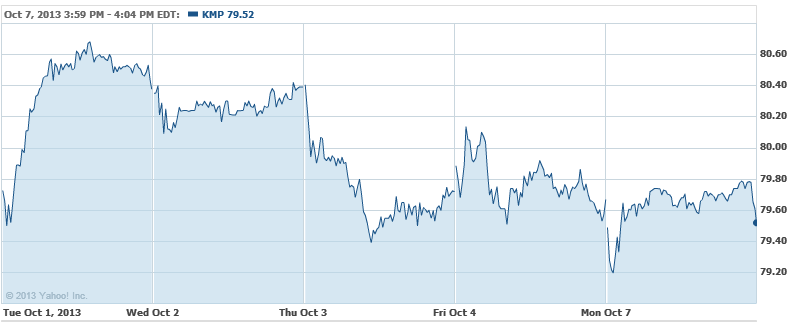 Marathon Oil Corp. (NYSE:MRO): Current price $34.76
Marathon Oil and its partners reported they have gained approval from the Kurdistan Regional Government for the first phase in the oil development of the Atrush block in the Kurdistan Region of Iraq. The Atrush-1 discovery well was drilled in 2011, and is located some 50 miles northwest of Erbil. The development project be comprised of drilling three production wells and building a central processing facility. Marathon Oil and its partners anticipate first output by early 2015 with an estimated initial gross production of about 30,000 barrels of oil per day. The approval of the Field Development Plan for Phase 1 allows for a 25-year production period.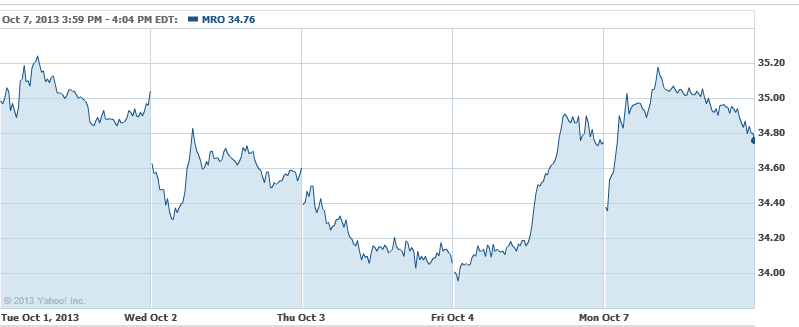 Petrobras – Petróleo Brasileiro (NYSE:PBR): Closing price $15.67
The Brazilian state-run energy giant announced late Sunday that another oil-production platform had been finished while the firm hurries to step up production this year. The P-55 platform is one of nine expected to enter production in 2013 as Petrobras endeavors to boost oil output that has stagnated at around 2 million barrels per day since 2011. The platform, which can produce roughly 180,000 barrels of oil and treat 4 million cubic meters of natural gas per day, will be installed at the Roncador field in some 12 days, said Petrobras.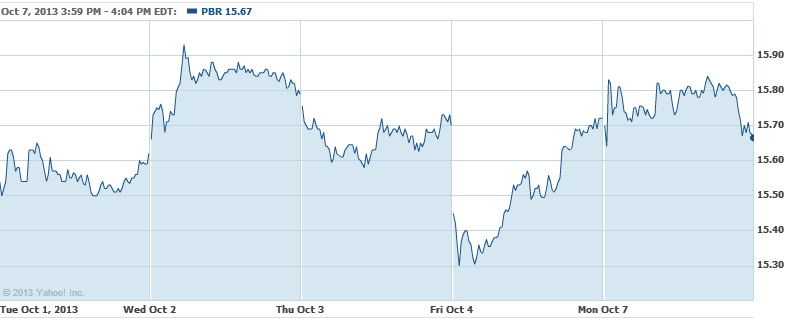 Don't Miss: Shell's Iraqi Oil Field Increases Production.