4 Energy Stock Stories Making Sparks On Tuesday
Total (NYSE:TOT): Closing price $47.41
The French oil major will invest in facilities to export gas from Cyprus, which needs to exploit its reserves quickly in order to help the country emerge from its financial crisis, according to government sources. Total, along with Italy's Eni, South Korea's Kogas, and Noble Energy are among the energy companies that have made deals to explore Cyprus's new-found gas potential. On Tuesday, government officials in Cyprus reported that Total had signed a memorandum of understanding concerning a second liquefied natural gas production line, or 'train.' The officials added that the estimated cost would be $3 billion, which would be aside from the estimated $6 billion cost of the first LNG train.
Are these stocks a buy or sell? Let us help you decide.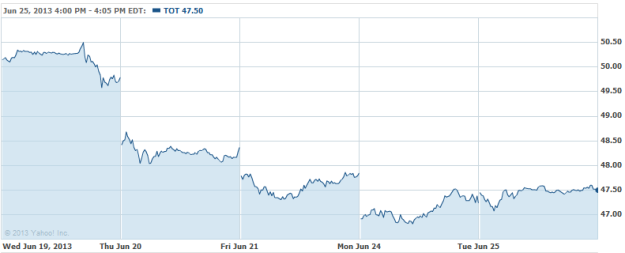 Enbridge (NYSE:ENB): Closing price $41.85
Enbridge has resumed service in a major section of the 335-mile Athabasca oil pipeline, following a spill on a smaller line that has posed a possible serious disruption in the flow of oil sands crude. Pipelines that carry around 1 million barrels per day of Alberta oil sands crude, with a lot of it headed for the United States, were shut down as a precaution after about 750 barrels of synthetic oil spilled from a line on Saturday following heavy rains. Included in the closures were the major Athabasca and Waupisoo lines, after a rupture on Line 37, which serves CNOOC Limited's Long Lake oil sands project in northern Alberta, was detected in a remote area lying southeast of Fort McMurray.
Are these stocks a buy or sell? Let us help you decide.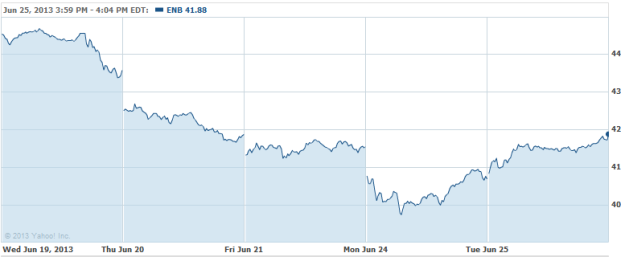 Aegean Marine Petroleum Network (NYSE:ANW): Closing price $8.70
On Tuesday, Aegean and SK Lubricants reached a global cooperation agreement that will permit the former to increase its sales volumes in the marine lubricants market and SK Lubricants to widen its worldwide sales network. Through the terms, Aegean will provide marine lubricant products to customers of SK Lubricants in the Aegean lubricants network, which presently covers 45 countries and 550 ports globally, and SK Lubricants will supply Aegean's customers in South Korea with marine lubricant products.
Are these stocks a buy or sell? Let us help you decide.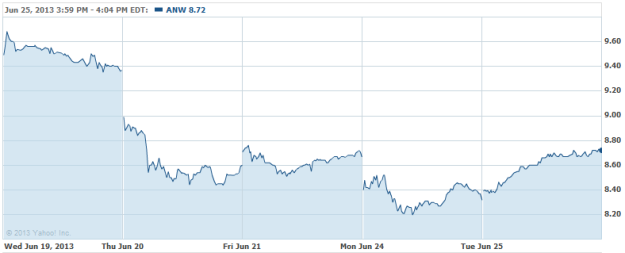 Suncor Energy (NYSE:SU): Closing price $28.90
Suncor has temporarily lowered output from its Fort McMurray operations in Alberta, resulting from the shutdown of the Enbridge pipeline system within the region. Chief Executive Steve Williams said that,"We're using our existing storage capacity, as well as moving volume on our Oil Sands pipeline, to mitigate the impact while we work with Enbridge to facilitate safely bringing the pipelines back into operation."
Are these stocks a buy or sell? Let us help you decide.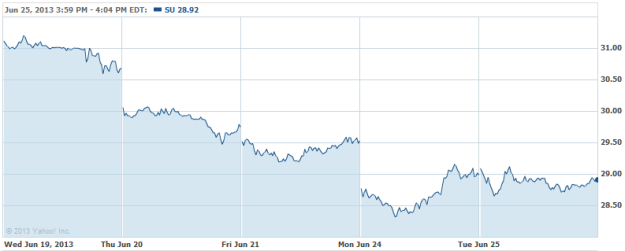 Don't Miss: Here's Why Obama's Climate Plan Has Keystone Opponents Worried.