4 Energy Stock Stories Ready At the WSCS Pump
Royal Dutch Shell (NYSE:RDSA): Closing price $64.56
Shell has named its refining chief Ben van Beurden as its new chief executive, selecting an individual having little board-level experience, but wide company exposure, together with first-hand knowledge of the gas tech upon which it has gambled its future. Van Beurden became head of refining, marketing and chemicals in January, and has been with the Anglo-Dutch behemoth for 30 years, spending a decade in the liquefied natural gas industry. The Dutchman is similar in age to Peter Voser, whom he is replacing, who announced his surprise retirement in May.
Are these stocks a buy or sell? Let us help you decide.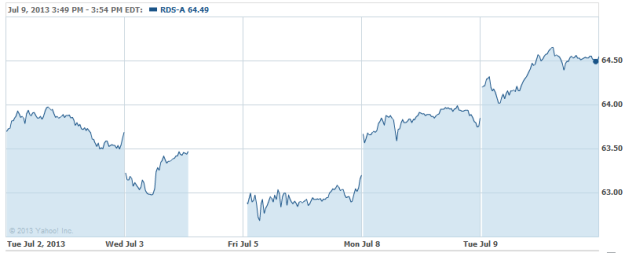 ENI (NYSE:E): Closing price $40.66
On Tuesday, Italy's number-one oil and natural gas firm by volumes, said that it will spend $895 million to update its revenue-losing Gela refinery in the southern part of the country. The refurbished refinery should to be fully operational in 2017, and "will be able to generate profits" by producing oil products more in line with demand, said a company statement, which did not describe the new product mix. The site has been blamed for about one-third of the losses within ENI's entire refining system since 2009, according to the statement, which added that the company has discussed Gela investment plan with local and national officials.
Are these stocks a buy or sell? Let us help you decide.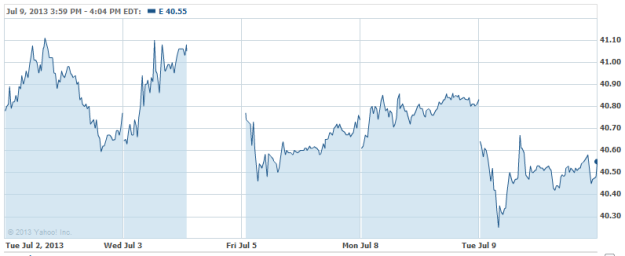 FirstEnergy Corp (NYSE:FE): Closing price $36.81
FirstEnergy announced Tuesday that it will close two coal-fired power plants in Pennsylvania by October 9, because of weak power prices and the expense of complying with more robust environmental rules. In a federal filing, FirstEnergy said that it would recognize an impairment charge of around $488 million — $321 million after tax – in the second quarter for the shutdowns. The plants involved are Hatfields Ferry in Masontown and Mitchell in Courtney, according to the release, which added that the firm expects the shutdown of the two plants to impact about 380 employees. All told, FirstEnergy said that the plants could generate 2,080 megawatts, which represents roughly 10 percent of its total capacity
Are these stocks a buy or sell? Let us help you decide.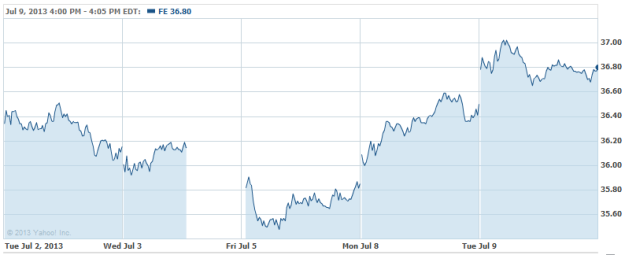 TransAlta Corp. (AMEX:TA): Closing price $10.60
TransAlta is gambling that a spinoff of its wind and hydroelectric power plants will raise its value and help reverse two years of losses. The biggest publicly-traded electricity generator in Canada gained 9.7 percent since it said on June 26 that it intends an initial public offering of some of its renewable energy assets. TransAlta has grown its wind and hydro power capacity to around 25 percent from 15 in 2008, with developments in eastern Canada and parts of the United States, even as power prices in its main markets of Alberta and Washington State have slumped.
Are these stocks a buy or sell? Let us help you decide.