4 Energy Stock Stories Ready for a Weekend Perusal
Royal Dutch Shell plc (NYSE:RDSA): Closing price $67.52
Shell is poised to close on an agreement with the government of Iraq to establish a major petrochemical facility in the southern part of the country. The $11-billion ethane-cracking facility, Nebras, would produce ethylene, which is employed in making plastic. It is anticipated that both parties will sign a Heads of Agreement within a few weeks. According to Shell management, the firm had signed a memorandum of understanding last April for a technical and economical feasibility evaluation to realize the full potential of the petrochemical project.

Statoil ASA (NYSE:STO): Closing price $23.18
Statoil and its partners will extend the lifetime of its oldest oil platform, Statfjord A, in the North Sea until 2020. The Statoil-operated field produced in excess of 4.7 billion barrels of oil equivalent since the output start in 1979, and the production this year reached 80,000 barrels of oil equivalent per day. In order to maintain the oil and gas flow, the partners in the license, which include ExxonMobil and Centrica, intend to drill 10 new wells in the field in 2014.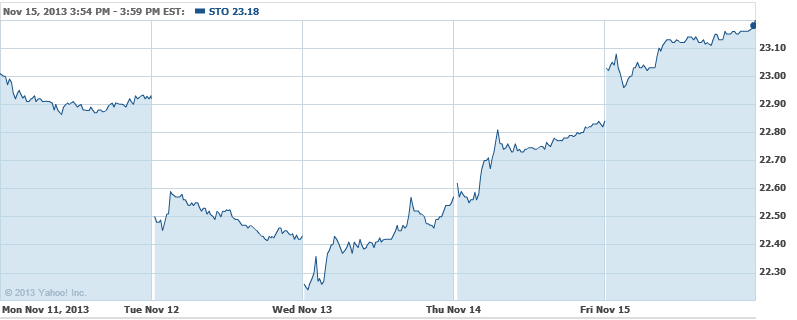 Phillips 66 (NYSE:PSX): Closing price $67.08
Phillips 66, via its wholly-owned subsidiary, Phillips 66 Pipeline LLC, extended its open season for the Cross-Channel Connector project to December 12. The extension results from the request of shippers who need more time to evaluate the project. Phillips is soliciting binding commitments to carry refined petroleum products from the south side of the Houston Ship Channel to the Magellan Midstream Partners and Kinder Morgan Energy Partners systems, lying on the north side of the channel at Galena Park and East Houston.

Chevron Corp. (NYSE:CVX): Closing price $120.03
Chevron has reported an explosion in its West Texas pipeline system, close to Milford. The incident happened Thursday morning. The rupture occurred while workers mistakenly drilled into the 10-inch liquefied petroleum gas pipeline. The company has stressed that it at no time compromised on the safety of its crew, and subsequently evacuated them unharmed.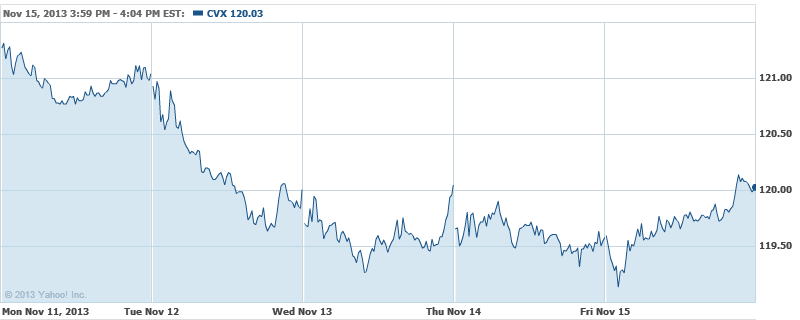 Don't Miss: Distaster Strikes Chevron-Operated Texas Pipeline.