4 Energy Stock Stories Ready for a Weekend Read
Chevron Corp. (NYSE:CVX): Closing price $.119.50
The Ecuadorean government agency that oversees intellectual property, IEPI, has parked an embargo on 50 trademarks owned by Chevron Corp. Plaintiffs in a lawsuit against the oil major intended to auction off those trademarks, which include Texaco, Ursa, Havoline, Doro, Geotex, Meropa, Motex, Multgear, Regal, Taro, Texatherm and Thuban. IEPI head Andres Ycaza said on Friday that the ruling is in reaction to a request from Judge Wilfrido Erazo of the Sucumbios Court in the Amazonas region.
The decision means that revenues connected with the sale of products with these trademarks can not go to Chevron. Icaza did not rule out embargoing other Chevron trademarks in the future, should the judge asks for it. Spokesman James Craig for Chevron termed the move "a violation of international law."
Occidental Petroleum Corp. (NYSE:OXY): Closing price $97.70
On Friday, Occidental said that it will divest a minority stake in its Middle East and North Africa operations, and consider options to sell some of its assets in the Rockies as well. The aim is to "streamline the business, concentrate in areas where we have depth and scale and improve overall profitability. Our goal is to become a somewhat smaller company with more manageable exposure to political risk," according to Chief Executive Steve Chazen in a statement.

BP (NYSE:BP): Closing price $43.34
BP has announced that it will name Richard Herbert as its new chief of exploration. Herbert will take the place Mike Daly, who has chosen to retire from BP at the end of this year, after a career of 28 years with the firm, with eight of those leading BP's exploration function. Herbert will rejoin BP from Talisman Energy, at which he has held the position of Executive Vice President, Exploration since 2009.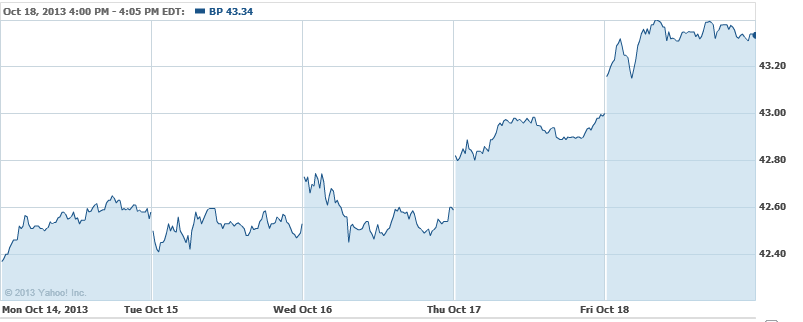 TransCanada Corp. (NYSE:TRP): Closing price $44.68
TransCanada's North Central Corridor system resumed gas shipments to "most" customers, following the isolation of a pipe break, and was working with others to restore service, as of Thursday. Imperial Oil Ltd. 's Kearl oil-sands project and Canadian Natural Resources Ltd.'s Horizon upgrader halted production while the Syncrude upgrader ceased shipping product. Suncor Energy Inc.'s Fort McMurray plant reduced their rates.

Investing Insights: Here's Why GE's Q3 Revenue Dip Didn't Scare Investors.