4 Energy Stock Stories Ready in the WSCS Pipeline
Chevron Corp. (NYSE:CVX): Closing price $119.50
Chevron confirmed that at about 9.30 a.m. Central Time on Thursday, an incident occurred at a Chevron pipeline near Milford, Texas. The company has initiated its emergency response procedures and is responding to the incident with its primary focus being to ensure the safety of its employees and the surrounding community. When further details emerge, they will be made available.
Apache Corp. (NYSE:APA): Closing price $92.10
On Thursday, Apache announced the completion of its previously reported sale of a one-third minority participation in its Egypt oil and gas unit to Sinopec International Petroleum Exploration and Production Corporation. Following the customary closing adjustments, Apache received $2.95 billion in cash, and will continue to operate the Egypt upstream oil and gas business.

Vale SA (NYSE:VALE): Closing price $15.61
GDF Suez SA reports that it has secured an 'Asset Purchase Agreement' with Vale SA so as to purchase its 20 percent participating interest in two gas exploration blocks in the Parnaiba onshore basin, in the North East of Brazil. the signing of the agreement represents the first entry of GDF Suez SA into the exploration-output activities in Brazil. Blocks 2 and 3 cover an area of 3,067 square kilometers, and 3,065 square kilometers, respectively.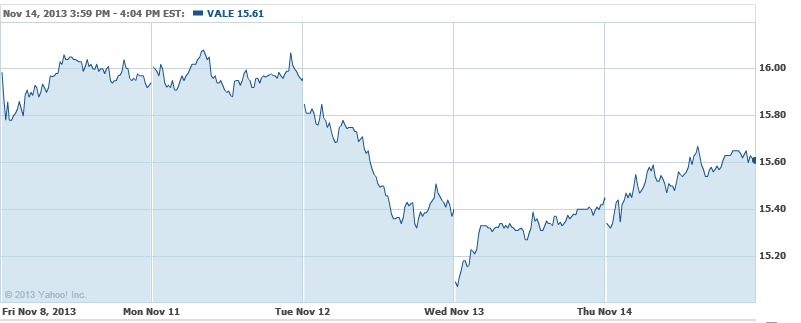 BP (NYSE:BP): Closing price $46.60
On Thursday, Canada heavy oil strengthened for a third straight day on the spot market, while BP's Whiting, Indiana, refinery initiated the startup of a new coker that will permit it to begin processing heavy oil-sands crude. The 420,000-barrel-per-day Whiting plant brought online a new delayed coker, said an inside source. Combined with a crude unit that started up in June, the equipment will enable Whiting to process up to 85 percent Canadian heavy crude, increased from around 20 percent, according to the firm's website.

Don't Miss: New EPA Standards Provide Opportunity for Midwest Energy Emissions Corp.