4 Energy Stock Stories That Should Fuel Investors' Attention
Carrizo Oil & Gas (NASDAQ:CRZO): Closing price $20.51
The private-equity Chinese firm Lanzhou Haimo Technologies will purchase the shale oil and gas assets of Carrizo in Colorado. The acquisition represents the first investment by a private Chinese firm into shale oil and gas exploration in an American oil field. Through the terms, the firm will pay $27.5 million for a 14.29 percent interest in Carrizo's Niobrara shale oil and gas assets, which  includes six thousand acres lying primarily in Weld and Adams Counties in Colorado, along with oil and gas wells and associated infrastructure.

Royal Dutch Shell (NYSE:RDSA): Closing price $68.84
A prototype compressor for Shell's gigantic Ormen Lange natural gas field in the Norwegian Sea is being tested at the bottom of a huge water-filled pit in western Norway as the company's engineers get it ready to change oil and gas production forever. This innovation is hoped to help make platform-free offshore production a reality within a decade. Oil firms have steadily moved offshore equipment to the bottom of the seabed, safe from ice and storms, because it then squeezes more out of fields, is less expensive, and relieves much of the risk linked to rigs.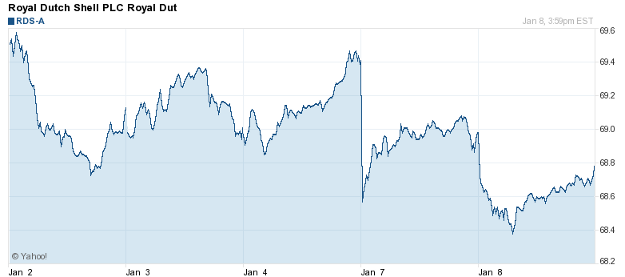 Are these stocks a buy or a sell? Let us help you decide.  Check out our Wall St. Cheat Sheet Stock Picker Newsletter now>>
Tesoro Logistics (NYSE:TLLP): Closing price $41.70
Tesoro reports the initiation of a registered underwritten public offering of 8.5 million common units representing limited partner interests in the partnership. Through the terms, the partnership grants the underwriters a 30-day option to buy as many as 1.275 million additional common units. The net proceeds from the offering, including any net proceeds received from an exercise of the underwriters' option to buy additional common units, will be used fund a portion of the consideration for the partnership's previously reported purchase of Chevron Pipeline Company's (NYSE:CVX) Northwest Products System.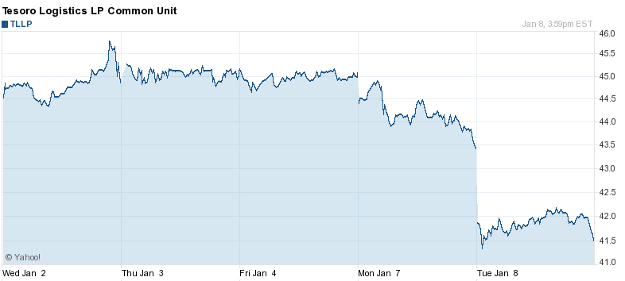 Occidental Petroleum Corporation (NYSE:OXY): Closing price $81.72
Occidental, the fourth-largest domestic oil company, has described some of the early results of its cost-cutting efforts, and shares rose more than 2 percent, perhaps in response. Chief Executive Stephen Chazen on Tuesday presented a program of slides, in which he commented that, "With regards to the reduction in our cash operating costs, we are running well ahead of plan. This should be noticeable in our fourth quarter results and become very visible in the first quarter of 2013."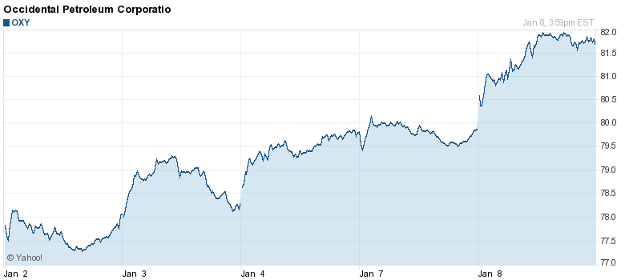 Don't Miss: What Does the Seaway Pipeline Mean for U.S. Crude?