4 Energy Stock Stories To Drive Investor Curiosity
Exxon Mobil Corporation (NYSE:XOM): Closing price $89.74
Exxon Mobil has been granted time by regulators to conduct a second round of testing on the ruptured Pegasus oil pipeline, after the firm reported that an initial inspection into the reason the almost 70-year-old line failed was inconclusive. The 95,000-barrel-per-day line has been shut down since it leaked thousands of barrels of heavy Canadian crude oil into the town of Mayflower, Arkansas, in late March, and many wonder now if it will ever be restarted. State politicians have requested that Exxon relocate a 13.5-mile section of the line away from Little Rock's drinking water supply while safety fears about transporting Canada's tar sands on aging American infrastructure increase.
Are these stocks a buy or sell? Let us help you decide.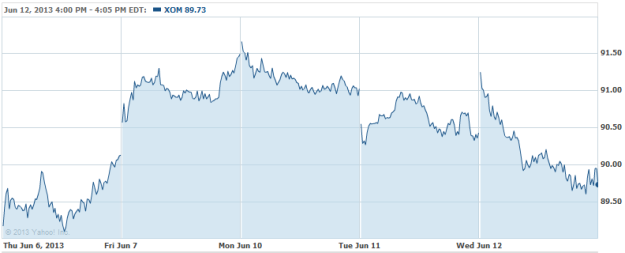 Chevron Corporation (NYSE:CVX): Closing price $119.97
Chevron Chief Executive John Watson said Tuesday that the United States ethanol mandate might push up domestic gasoline prices if refiners avert the requirement by exporting more gasoline, thus cutting supply at home. The Environmental Protection Agency has certified the use of E15, gasoline, which has a higher blend of ethanol, for autos made since the 2001 model year, which account for roughly two-thirds of the vehicles currently on the road in the United States. Ethanol backers contend that E15 is a good way for refiners to attain the Renewable Fuel Standard, which mandates that blenders mix more ethanol, made primarily from corn, into gasoline each year.
Are these stocks a buy or sell? Let us help you decide.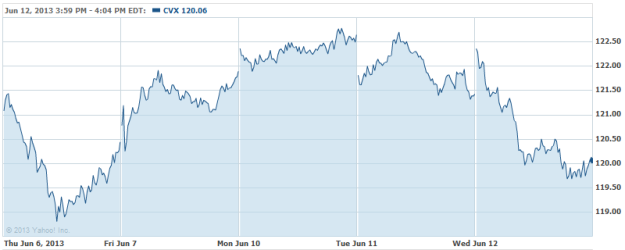 Royale Energy (NASDAQ:ROYL): Closing price $2.87
Royale announced a gas discovery on Wednesday at its new Zodiac well, which was drilled on its proprietary 3-D seismic data and met as much as three productive formations. The first zone has been finished and tested with a flow rate in excess of 1 million cubic feet per day, and Royale plans to commence output at 700,000 cubic feet per day. The firm continues to build upon its natural gas production and reserves as prices rebound, and will drill three added wells by autumn. Along with prices doubling from a 2012, Royale has bought a hedge that would constrain its downside through the summer months and end in October, just before the onset of higher winter demand.
Are these stocks a buy or sell? Let us help you decide.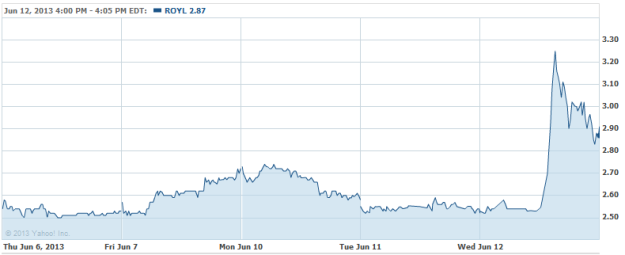 Miller Energy Resources (NYSE: MILL): Closing price $3.98
Miller said Wednesday that its wholly-owned operating subsidiary, Cook Inlet Energy, has successfully put down casing to a measured depth of 15,265 feet on its RU-2 well sidetrack. A final cement bond test indicated good coverage over hydrocarbon bearing zones. Well log readings from the RU-2A sidetrack imply a full column of oil throughout the entire Hemlock formation from a measured depth of 14,512 feet to 15,200 feet with permeability, porosity, and resistivity equal to or surpassing that seen in the original RU-2 well.
Are these stocks a buy or sell? Let us help you decide.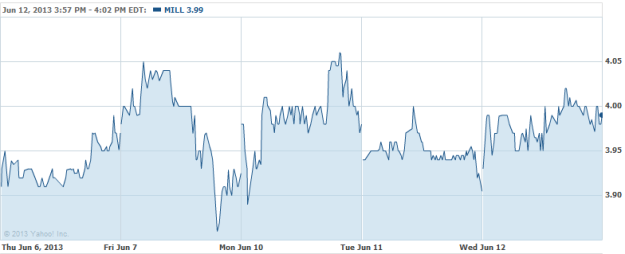 Don't Miss: Is Oil Floating Up on Positive Economic News?