4 Energy Stock Stories to Fuel Interests of Investors
BP (NYSE:BP): Current price $43.93
At long last, BP has
brought on stream
the first output from a new platform at its Valhall redevelopment project off Norway, which is set to lengthen the lifetime of the veteran field by a further 40 years. The firm currently expects to build up production from the field to roughly 65,000 barrels of oil equivalent per day by the second half of 2013, subsequent to adding new facilities to drive its processing capacity to 120,000 barrels of oil and 143 million cubic feet of gas per day.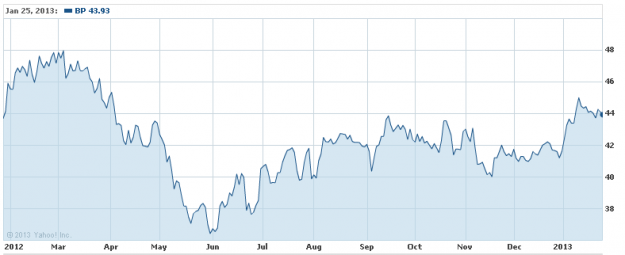 Markets are at 5-year highs! Discover the best stocks to own. Click here for our fresh Feature Stock Pick now!
Royal Dutch Shell (NYSE:RDS-B): Current price $73.46
Shell US Gas & Power, which is a Royal Dutch Shell subsidiary, and Southern Liquefaction Company, a Kinder Morgan subsidiary and division of El Paso Pipeline Partners, will form a limited liability company through which to develop a natural gas liquefaction plant in two phases at Southern LNG Company's existing Elba Island LNG Terminal near Savannah. The affiliates have agreed to modify EPBs Elba Express Pipeline and Elba Island LNG Terminal to physically carry natural gas to the terminal and to load the liquefied natural gas onto ships for export.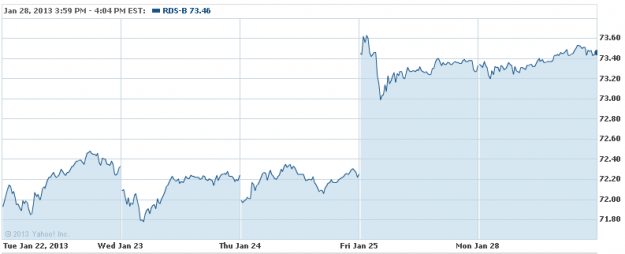 Seadrill Partners (NYSE:SDLP): Current price $28.70
Seadrill's board has declared a quarterly cash distribution with respect to the quarter ended December 31st, of 29.06 cents per unit, which was prorated for the period commencing October 24th, which was the closing date of Seadrill Partners IPO, and ending December 31st. The distribution corresponds to a quarterly distribution of 38.75 cents per outstanding unit, or $1.55 on an annualized basis, and will be paid on February 14th to all unitholders of record as of the close on February 4th.

Baker Hughes (NYSE:BHI): Current price $45.65
The firm says that Chairman Chad Deaton will retire April 25th and Chief Executive Martin Craighead will replace him. Deaton joined the oilfield-services company in 2004 as chairman, president and chief executive, assuming the role of executive chairman in January 2012. Recently, the firm's North American pressure-pumping business has been impacted, as energy customers reduce their drilling for natural gas and transfer their output to oil-rich shale. Additionally, volatile natural-gas and oil prices, along with excess supply of pressure-pumping capacity have pressured profits in recent quarters as well.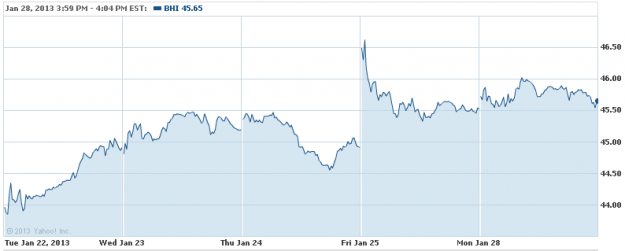 Don't Miss: Chevron Slings Ghostwriting Accusations in Amazon Oil Spill Judgment.