4 Energy Stock Stories To Fuel Investment Chatter
BP (NYSE:BP): Current price $43.43
The large trader in the North Sea Brent oil market reported on Monday that would support the change of trading terms by Royal Dutch Shell, a move which is seen as important as it makes their wider adoption more probable. Shell said on Friday that it will apply a Quality Premium to BFOE forward contracts, such as for Brent, Forties Oseberg and Ekofisk crudes, to trades with its counterparties for cargoes loading in May and afterwards.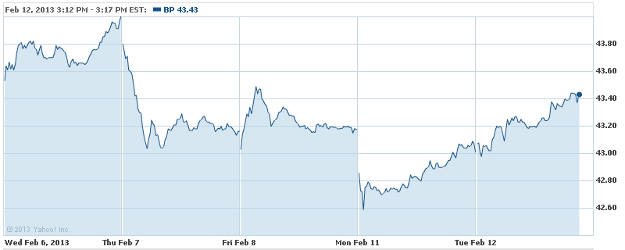 Kosmos Energy (NYSE:KOS): Current price $12.05
Kosmos announces that it has begun a registered underwritten public offering of roughly 30 million common shares, all of which will be offered by existing shareholders and certain officers of the firm. The underwriters will have an option to buy up to an additional 4.5 million shares within 30 days to cover any over-allotment. The firm will not receive any of the proceeds from the sale of the common shares.
Are these stocks a buy or sell? Let us help you decide. Check out our Stock Picker Newsletter now.

Kinder Morgan Energy Partners (NYSE:KMP): Current price $87.68
The company has reached new and extended long-term transportation and storage arrangements with Calpine Energy Services under which Kinder Morgan will supply as much as 450,000 dekatherms per day of firm transportation service along with 5 billion cubic feet of storage capacity for nine of Calpine's electric generation facilities in Texas. The service level through these new accords marks an increase of 150,000 dth/d of transport and one billion cubic feet of storage over agreements previously in place. KMP will spend around $30 million in the expansion of its Texas intrastate pipeline system in South Texas to extend service to Calpines Magic Valley Generating Station in Hidalgo County.

Royal Dutch Shell (NYSE:RDSA): Current price $67.73
Shell takes another hit to its Alaskan Arctic drilling program as it reported on Monday that it will tow its two drill vessels in that state to Asian ports for major repairs, putting at risk its plans to start drilling for oil in the northern seas in the coming summer. This new development does not have to ruin the firm's seven year, $4.5 billion attempt to open a new oil frontier in the far north, but it could reinforce the position of environmentalists who have time and again sued to stop or delay exploration which they say carries the risks of a spill that could be almost impossible to clean up.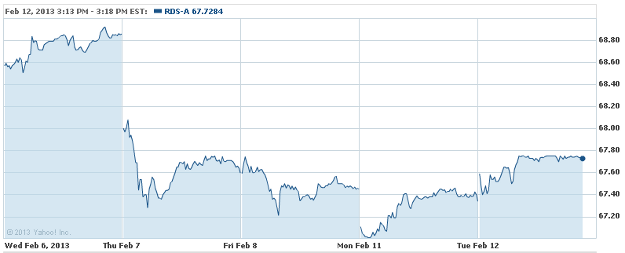 Investing Insights: Is Exelon Likely to Outperform?