4 Energy Stock Stories to Fuel Investor Curiosity
Suncor Energy (NYSE:SU): Current price $34.09
In a move to avoid the appearance of conflict-of-interest, Sen. John Kerry (D-MA) and his wife will divest their holdings in the Canadian oil firm Suncor as well as a large number of other investments, so as to avoid misunderstandings as the  prepares to become the next Secretary of State, if confirmed. Last week, the Canadian Press reported that Kerry has as much as $750,000 invested in Suncor, whose Chief Executive has pressed the Obama Administration to approve TransCanada's Keystone XL pipeline.

Are these stocks a buy or sell? Let us help you decide. Check out our Stock Picker Newsletter now.
Talisman Energy (NYSE:TLM): Current price $11.98
The Calgary-based global oil and gas producer will have fewer staff needs as it goes forward. Executive Vice President, Corporate Services, Helen Wesley said that the downsizing of corporate ambition under the management of Hal Kvisle, who was appointed chief executive four months ago, means that the firm could be weeks away from introducing layoffs and other administrative reductions that will trim $260 million from yearly costs. Also, Wesley reported that Talisman spends approximately $1.3 billion per year on gross general and administrative costs and intends to slash at least 20 percent of that.
Northeast Utilities Systems (NYSE:NU): Current price $40.21
The utility company is said by Barclays to be a top regulated utility pick for 2013, commenting that, "NU has, in our view, a best-in-class management team poised to deliver top-decile (6 to 9 percent) earnings and dividend growth through a combination of rate base growth opportunities in transmission and natural gas infrastructure, coupled with strong cost management. Our $45 price target and NU's current 3.5 percent yield support a total shareholder return opportunity of more than 20 percent."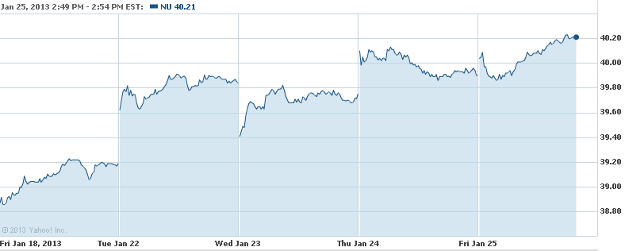 Eni (NYSE:E): Current price $51.79
On Thursday, Eni and Kogas of South Korea signed contracts through which to explore three natural gas-rich deepwater blocks off Cyprus where political tensions have emerged regarding exploration in its exclusive economic zone. The exploration and production sharing contracts cover Blocks 2, 3 and 9 which involve an area of approximately 12,530 square kilometers in the offshore Levantine basin.

Investor Insight: The Fed's Balance Sheet: $1 Trillion…$2 Trillion…$3 Trillion.