4 Energy Stock Stories to Fuel Investor Interest
Dow Chemical Company (NYSE:DOW): Closing price $34.00
Dow severed ties on Friday with the National Associations of Manufacturers, which posted a policy statement in support of natural gas exports, in which the Association said sales of natural gas to foreign buyers would create opportunities for businesses in the United States. In a letter to NAM President Jay Timmons on Friday, Dow Chemical accused the group of siding with member firms in the natural gas industry rather than adopt "a position of neutrality on an issue that clearly splits its membership," according to Dow Jones. Chief Executive Andrew Liveris of Dow has said that unchecked exports of natural gas will raise domestic prices and threaten investments in the United States' manufacturing sector.
Are these stocks a buy or sell? Let us help you decide. Check out our Wall St. Cheat Sheet Stock Picker Newsletter now >>
Baker Hughes (NYSE:BHI): Closing price $44.85
The oil rig count in the United States has dropped each month since August when rising stocks of crude and more efficient drilling tech reduced the demand for new rigs on the part of energy producers. According to data posted on the Baker Hughes website, the count of oil rigs is now at 1,316 rigs.
Petrobras – Petroleo Brasileiro (NYSE:PBR): Closing price $19.51
State-controlled Petrobras has been requested (although not officially) by the ANP oil regulator to raise its output at one of its biggest fields, the Roncador, which would increase costs for the firm which is already one of the largest spenders in the industry. Roncador is one of Brazil's largest producing fields, but recently it has been one of the company's older fields that have led falling output from Petrobras. For the company to be obliged to try and raise output from a field that is perhaps declining would boost costs rather rapidly and could result in an uncertain outcome.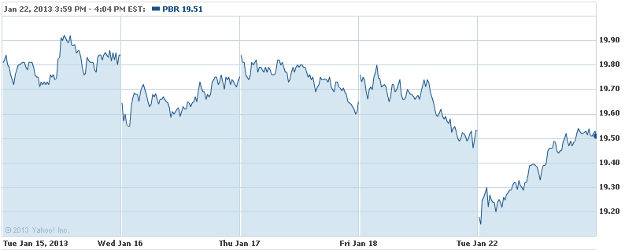 Total (NYSE:TOT): Closing price $52.80
The French oil major is set to retain a major oil license in the northern section of oil-rich Lake Albertine Rift basin in Uganda subsequent to its new discovery of oil after months of extensive drilling activities, according to company and government officials. The exploration license for the block where the find was made, known as 1A, would have expired in February.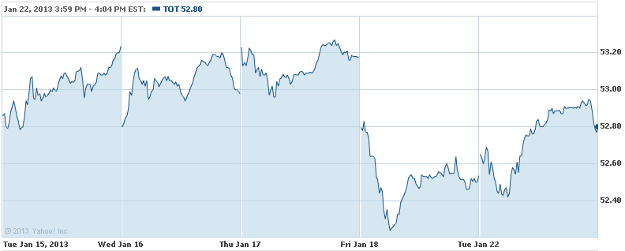 Don't Miss: Is the Keystone XL Pipeline Moving Forward?