4 Energy Stock Stories To Fuel Investor Interest
General Electric Company
(
NYSE:GE
): Current price $23.02
GE's Power Conversion division will announce Wednesday that it has secured $600 million worth of
contracts
to provide dynamic positioning, propulsion, vessel automation and drilling systems under Brazil's rig-building program, according to
Upstreamonline.com
. The contracts will be awarded over a period of one year, and are for the supply of propulsion systems on 22 of the 29 ultra-deepwater rigs being constructed for Sete Brasil, which will own the units and charter them to Petrobras.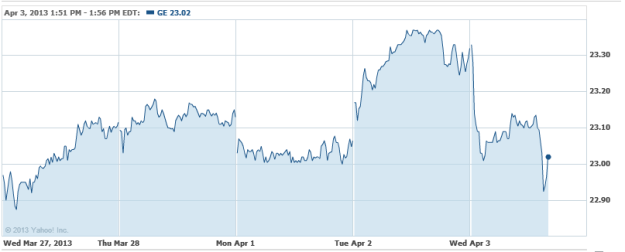 Statoil
(
NYSE:STO
): Current price $24.14
Statoil Chief Financial Officer Torgrim Reitan told 
Dow Jones Newswires
on Wednesday that Norway needs to make a new giant oil and gas find every other year for the next decade in order to
offset falling output
, commenting that "we expect the production on the Norwegian shelf to go on pretty well until 2020 or 2025, and after that it will fall." Statoil, along with other oil firms operating on the Norwegian continental shelf are crucial contributors to Norway's great wealth. That country's oil and gas revenues stood at $64 billion in 2011; it has a $700 billion oil fund and no net debt.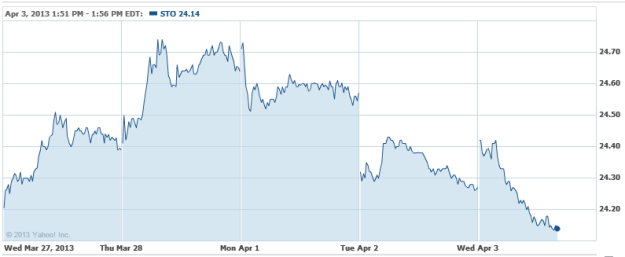 Chevron Corporation
(
NYSE:CVX
): Current price $117.81
Chevron says that it is concentrating all of its North American liquid natural gas endeavors
north of the United States border
due to the more favorable regulatory climate and closer proximity to Asia, which makes exports more profitable for producers. Beyond that, worldwide energy majors from Exxon Mobil Corporation to Malaysia's Petroliam Nasional are thinking about terminal projects in western Canada. through which to supply Asian utilities and factories that are paying more than four times the price of United States markets. The chief energy economist at the Center for Energy Economics at the University of Texas' Bureau of Economic Geology, Michelle Foss, remarked that "the smart money is going to Canada" to export LNG. They don't have any objections to exporting gas and it's closer to Asia, which cuts down on shipping costs."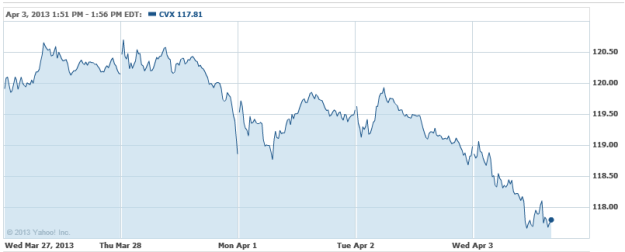 Exxon Mobil Corporation
(
NYSE:XOM
): Current price $90.20Russia's state-owned company Rosneft's President Igor Sechin said Wednesday that his firm and ExxonMobil will
bid jointly in a tender
for offshore Lebanon oil and gas, according to
Interfax
news agency. The two energy giants have already partnered to develop Russian and North American offshore riches. Around 200 companies have requested application documents in the pre-qualifying bid round for oil and gas exploration in Lebanon's offshore water.
Are these stocks a buy or sell? Let us help you decide.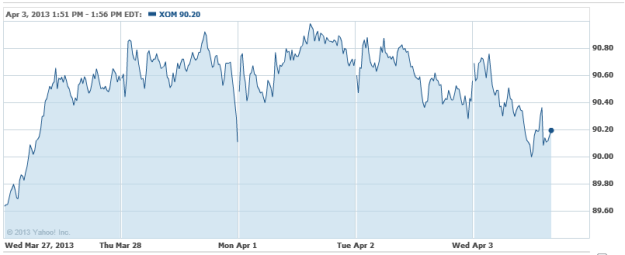 Investing Insights: Does Peabody Have Potential?