4 Energy Stock Stories to Fuel Investor Interest
Petrobras – Petroleo Brasileiro (NYSE:PBR): Closing price $ 20.01
The state-managed oil giant is exploiting high electricity prices, due to low hydroelectric reservoirs and hot summer weather boost energy demand, Chief Executive Maria das Gracas Foster said late Wednesday, who noted that Petrobras "is searching for the best profits possible." She added that it is possible to make some quick revenue during days when spot-market electricity rates soar due to strong demand. It is summer in Brazil, and a drought has left reservoirs in the country's hydroelectric power system at near-record lows; unseasonably hot weather has contributed to worries that Latin America's largest economy could face energy rationing.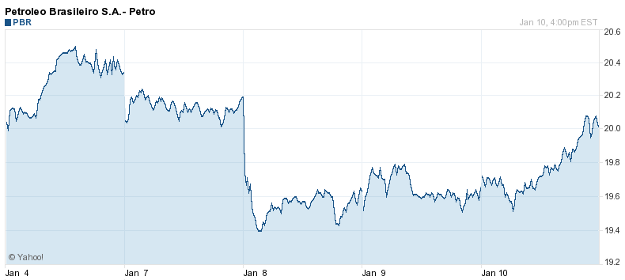 Walter Energy (NYSE:WLT): Closing price $39.41
The best-performing coal stock thus far in 2013 in Walter Energy, which is the analysts at Simmons & Co.'s "preferred way of playing a rebound" in metallurgical coal, they wrote in a note on Thursday. However, the researchers added that "the market still does not fully appreciate the value the company's portfolio has in an improved metallurgical coal market. They also pointed out that the firm"could be poised to have a better operational year in 2013 that could result in strong earnings growth."
Are these stocks a buy or sell? Let us help you decide. Check out our Wall St. Cheat Sheet Stock Picker Newsletter now >>
Canadian Pacific Railway Limited (NYSE:CP): Closing price $110.71
Calgary-based Canadian Pacific in now the middleman in a five-year arrangement between Phillips 66 (NYSE:PSX), and Global Partners through which to transport around 50,000 barrels of crude oil per day from the Bakken oil field to a refinery in Linden, New Jersey. Estimates are that through the life of the accord, the equivalent of approximately 91 million barrels of oil will be transported by CP's rail network from a loading facility in Stampede, North Dakota, to a Global terminal in Albany, New York.
Sonde Resources Corp. (AMEX:SOQ): Closing price $1.50
Sonde has retained FirstEnergy Capital Corp. to begin exploring and evaluating potential strategic alternatives concerning the firm's western Canadian production and exploratory acreage, so as to improve shareholder value. The Company especially wants alternatives that will reduce emphasis on legacy producing assets, and help concentration on creating value from its large array of exploratory acreage, which contains significant holdings in the Detrital-Banff, Duvernay, Montney, and Wabamun plays of west central Alberta.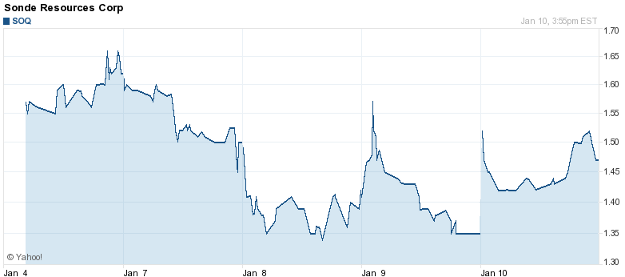 Don't Miss: Is Shell Up to Alaska's Challenge?