4 Energy Stock Stories To Fuel Midweek Investment Interest
TransCanada Corp. (NYSE:TRP): Closing price $43.60
Canada's number-two pipeline firm by market value expects a ruling by the United States concerning the Keystone XL pipeline in the first quarter of next year. President Alex Pourbaix of TransCanada's energy and oil pipelines said Wednesday at a conference in Calgary that the current government shutdown is not causing a "material delay" in the State Department's review of the $5.3-billion pipeline. Pourbix went on to say that TransCanada expects a final environmental impact statement from the Department "this fall." He continued, "It does appear a lot of the work is getting done at the agencies."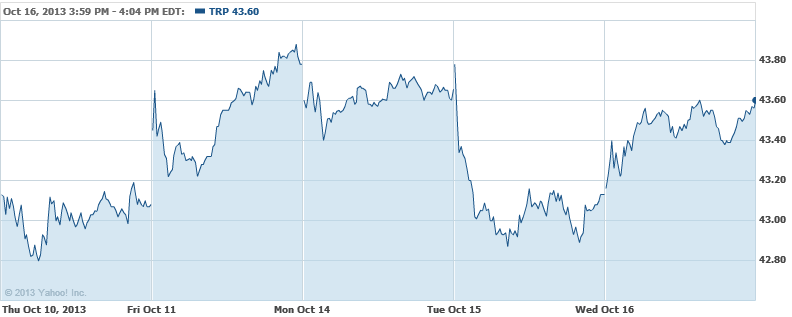 Williams Cos. Inc. (NYSE:WMB): Closing price $35.93
Williams Cos., which is planning to construct a natural gas pipeline in Kentucky, says that it has obtained land-use deals in parts of nine counties along the pipeline's proposed path. Officials with the Bluegrass Pipeline report they have reached easement agreements with private landowners in nine of the 13 counties along the proposed route. The 500-mile pipeline route stretches through Ohio and Pennsylvania as well. A spokesman for Williams, one of the energy companies behind the project, said that so far he did not know the number of miles of the proposed route in Kentucky which have been secured.

Statoil ASA (NYSE:STO): Closing price $22.72
Statoil said on Tuesday that it is abandoning a proposed $120-million wind project off the coast of Maine, which industry officials once said could help Maine be a leader in offshore wind power, after Republican Governor Paul LePage's administration managed to reopen the competitive bidding process. In a statement, the Norwegian company said that modifications in terms with the state and scheduling delays "made the project outlook too uncertain to proceed." Rather, Statoil said it is concentrating on a project in Scotland, while continuing to explore the United States' offshore wind market.

Cheniere Energy Inc. (AMEX:LNG): Closing price $38.13
Deutsche Bank maintains its Buy on Cheniere and boosted its price target from $39 to $47. Analyst Curt Launer commented that, "We are increasing our target price for Cheniere Energy Inc. from $39 to $47, based on higher ebitda expected from the underlying MLP Cheniere Energy Partners, additional valuation at the CQH General Partner based on about $50 million of incremental earnings, the inclusion of Corpus Christi at a valuation of about $470 million ($2 per share) and the inclusion of Trains 5 & 6 at about $450 million ($2 per share)." Shares closed up 3.53 percent on Wednesday.

Don't Miss: Big Oil Breaks Out Legal Guns Over Ethanol.