4 Energy Stock Stories To Kick Off the Week
Exxon Mobil Corp. (NYSE:XOM): Closing price $37.81
On Monday, Exxon Mobil shares recorded their 18th loss in 19 sessions, and are weighing the Dow 30 down. Shares fell by 1 percent today to $86.92. The slide started July 24, which was a week before Exxon posted its disappointing second-quarter numbers, which only made the decline sharper. Since July 23, Exxon shares have lost 8.6 percent of their value, and FactSet says that Exxon now comprises 63.5 points, or 11 percent, of the Dow's 557-point loss since that date.
Are these stocks a buy or sell? Let us help you decide.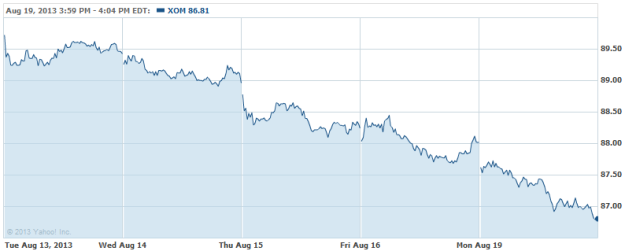 Apache Corp. (NYSE:APA): Closing price $75.37
Apache says that the continued violence in Egypt has not impacted its operations, as it  is one of the largest energy players there. Apache pulled an average of 193,000 barrels per day of oil from the country in the second quarter, along with around 900 million cubic feet per day of natural gas, according to the company spokesman Bill Mintz. Overall oil output in Egypt averaged 555,000 barrels per day last year, according to the United States Energy Information Administration. Mintz went on to say that Egypt is one of Apache's most active areas, accounting for 19 percent of its output in the second quarter of this year.
Are these stocks a buy or sell? Let us help you decide.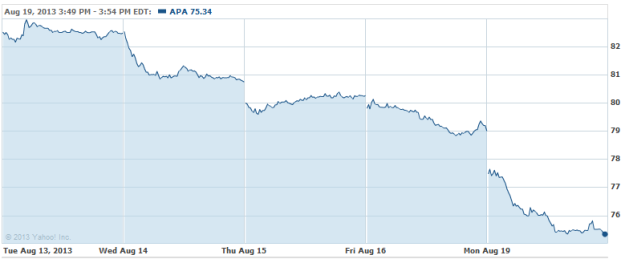 Marathon Oil Corp. (NYSE:MRO): Closing price $32.61
Marathon announced Monday that the pre-salt Diaman-1B exploration well offshore Gabon has met between 160 and 180 net feet of hydrocarbon pay in the deepwater pre-salt play. Preliminary analysis implies that the hydrocarbons are natural gas with condensate content, pending results of ongoing analyses of well data. The Diaman-1B well was drilled to a total depth of 18,323 feet in roughly 5,673 feet of water in the Diaba License G4-223. The Diaman-1B successfully affirms the existence of a working petroleum system and is the initial discovery drilled in the deepwater portion of the pre-salt play. Diaman-1B lies more than 60 miles from the nearest other pre-salt commercial discovery.
Are these stocks a buy or sell? Let us help you decide.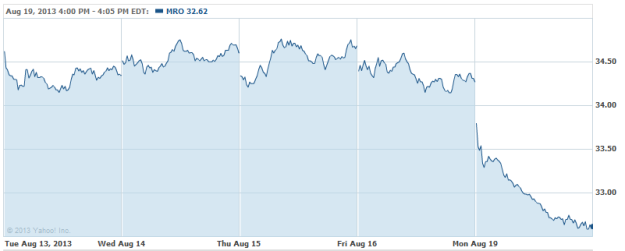 Petrobras – Petróleo Brasileiro (NYSE:PBR): Closing price $14.13
Brazilian state-controlled oil company SA gained $2.1 billion on Friday from its divestiture of stakes in a number of petrochemical and oil exploration projects, getting traction in its effort to rid itself of  non-core assets and protect cash. Petrobras sold a 35-percent interest in a Santos Basin oil exploration project to China's Sinochem Group Co Ltd for $1.54 billion, which comprised all of the shares it owned in a petrochemical compound, together with stakes in a Gulf of Mexico bloc and a thermal energy company in Brazil, said a securities filing.
Are these stocks a buy or sell? Let us help you decide.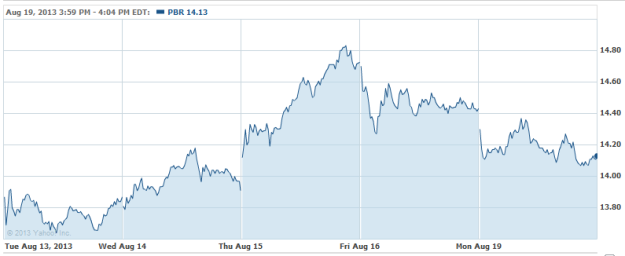 Don't Miss: Gold Stocks are Leaving the Station.