4 Energy Stock Stories to Spark Investment Chatter
Petrobras – Petroleo Brasileiro (NYSE:PBR): Current price $15.89
Chief Executive Maria das Graças Foster of Brazil's state-controlled oil firm has warned the government about rising debt levels that could put the company's investment grade credit rating at risk, according to a São Paulo newspaper on Saturday. Foster said that the firm's debt will far exceed its internal target unless Brazil sees higher fuel prices, in a meeting with Brazil's Finance Minister Guido Mantega, telling him that the debt could hit 3.5 times earnings before interest, taxes, depreciation and amortization by the fourth quarter of 2013.
Are these stocks a buy or sell? Let us help you decide. Check out our Stock Picker Newsletter now.

Apache Corporation (NYSE:APA): Current price $83.77
Apache may well be the biggest domestic energy firm that concentrates only on oil and gas exploration, but at the same time, it now has the dubious number-one rank of being the least-valued explorer among its peers as its shares trade at less than one-third of the average S&P 500 Oil & Gas Exploration and Production Index members. What's more, the firm's market value has dropped below the $36 billion it posted three years ago before Chief Executive Steve Farris purchased more than $16 billion of drilling prospects globally. However, Apache promised to expand production by 29 percent by the end of 2016, compared with 2012's second quarter, even though well disruptions, earnings misses and Egyptian unrest make the idea of  its acquisitions becoming a growth engine less likely.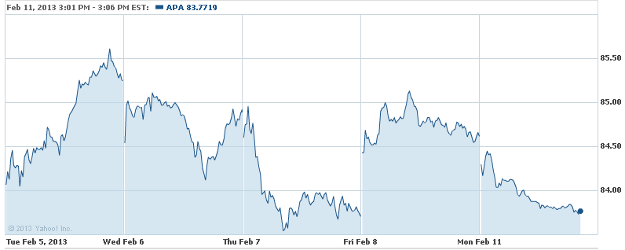 Gulfport Energy Corporation (NASDAQ:GPOR): Current price $38.66
On Monday, Gulfport announced the start of an underwritten public offering of 7.75 million shares of its common stock subject to market and other conditions. The underwriters will be allowed to buy up to an additional 1,162,500 shares from Gulfport only to cover any over-allotments. Net proceeds from this offering will be used to fund the previously-reported pending purchase of oil and gas assets in the Utica Shale in Ohio and for general corporate purposes which could include expenditures connected with Gulfport's 2013 drilling programs.
Harvest Natural Resources (NYSE:HNR): Current price $9.09
The firm has provided an update to its drilling operations in the Dussafu Tortue Marin-1 well drilled in the Dussafu Marin PSC offshore of Gabon. Currently, Harvest operates this well and is holding a 66.667 percent interest. This well was originally drilled in 380 feet of water to a vertical depth of 11,260 feet. The company recently reported an oil discovery in the pre-salt Gamba and Dentale reservoirs and intends to drill a sidetrack to evaluate the extent of the Dentale oil discovery.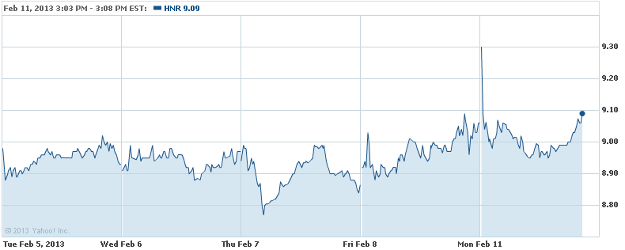 Don't Miss: Are Record Oil Stockpiles Still Hurting the Price of U.S. Crude?