4 Energy Stock Stories to Spark Investment Interest
Petrobras – Petróleo Brasileiro (NYSE:PBR): Closing price $15.61
Chief Executive Maria das Gracas Foster of Brazil's government-run oil company Petrobras still wants Venezuela's Petroleos de Venezuela, or PdVSA, to join in a joint-venture refinery project, she told the Valor Economico newspaper in an interview published on Wednesday. Foster observed that, "PdVSA is welcome at the Abreu e Lima refinery project under the planned [joint-venture] model," but, first PdVSA must make out a check for some $6.8 billion to cover the firm's 40-percent stake in the $17 billion project. An alternative solution might be to pay with oil, but Foster told Valor that the payment could not be made in "drops. I need money."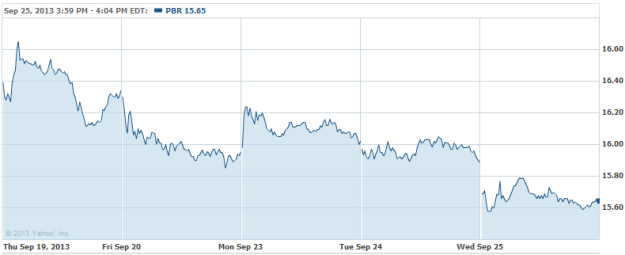 Chesapeake Energy Corp. (NYSE:CHK): Closing price $26.50
In a letter to employees, Chesapeake affirmed that it eliminated 86 jobs on Tuesday, representing the first time the firm has acknowledged layoffs publicly, although they have been reported for several weeks. One report implied that the natural gas driller might cut up to 2,000 jobs by the time the restructuring is finalized. The company will not say whether the Fort Worth office, where its Barnett Shale operations are headquartered, will be impacted.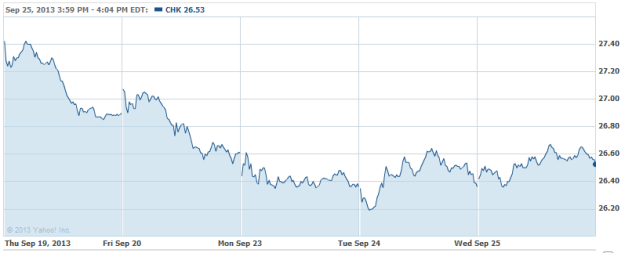 Royal Dutch Shell (NYSE:RDSA): Closing price $65.63
On Tuesday Shell became the latest firm to bail on efforts to transform Western Slope oil-shale rock into oil, announcing that it is abandoning its Mahogany project. In February 2012, Chevron ceased its oil-shale research in Rio Blanco County. Shell spokeswoman Kelly op de Weegh reported that, "The energy markets have evolved since we started the project in 1982. We are exiting our Colorado project to focus on other opportunities." The target of the Mahogany Research Center has been to turn oily shale rock into liquid by heating the rock in situ and pumping it out.
Total SA (NYSE:TOT): Closing price $58.17
On Wednesday the French oil major announced the final investment decision for a first development phase of the Incahuasi gas and condensate field in Bolivia. Situated on the Ipati Block 250 kilometers South West of Santa Cruz in the Andean foothills, the Total-operated development will entail three wells, one on the Aquio block and two on the Ipati block, a gas treatment plant with a capacity of 6.5 Mm3/d and allied export pipelines.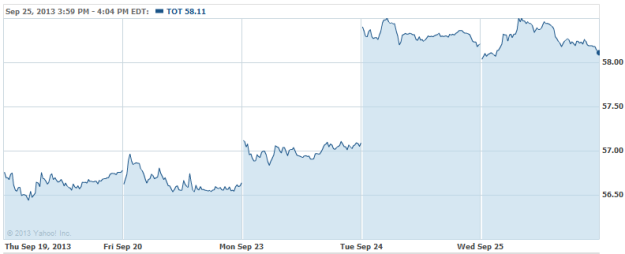 Don't Miss: Survey: Don't Shut Down Government to Stop Obamacare