4 Energy Stock Stories To Spark Savvy Investor Interest
Royal Dutch Shell (NYSE:RDSA): Closing price $64.82
Arrow LNG, an Australian joint venture between Royal Dutch Shell and PetroChina, is mulling an option of the construction on a rival's LNG site to restart its own stalled gas export plans, according to an inside source. The option could come as a shock to some in Australia's liquefied natural gas industry, considering the soaring cost pressures faced by most projects. Projected costs on Arrow's own stalled project have jumped by roughly 40 percent to up to $36 billion. The firm has held discussions with Origin Energy to use the site previously reserved for the expansion of Origin's $23.8 billion facility under construction on eastern Australia's Curtis Island, according to the source.
Are these stocks a buy or sell? Let us help you decide.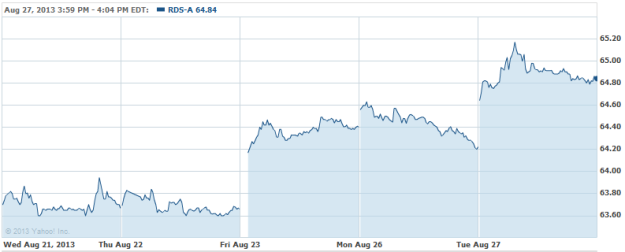 Statoil ASA (NYSE:STO): Closing price $21.81
Norway's Statoil has made a third discovery of crude oil in the Flemish Pass Basin, lying offshore Newfoundland. The find was made on the Bay du Nord prospect, located around 500 kilometers northeast of St. John's, Newfoundland and Labrador, making it the second discovery for Statoil offshore the province this year. In June, a discovery was made at the Harpoon prospect, which is located roughly 10 kilometers from Bay du Nord. Statoil Exploration Executive Vice President Tim Dodson observed that "The success of Bay du Nord is the result of an ambitious and targeted drilling campaign in the Flemish Pass Basin. This discovery is very encouraging."
Are these stocks a buy or sell? Let us help you decide.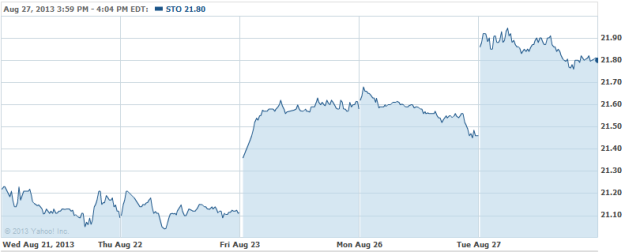 BP Plc (NYSE:BP): Closing price $41.47
BP has warned that an extended grounding of supply helicopters would likely have a "major impact" on energy operations in the North Sea, while producers tried to find alternative aircraft and ships to transport crew and equipment. Over half of the helicopter fleet used to supply oil and gas platforms in British North Sea was still grounded on Tuesday as operators imposed a voluntary freeze on using Super Puma helicopters, subsequent to a fatal crash on Friday. Air-safety authorities in the United Kingdom continued to investigate the accident off the Shetland Islands coast, which took the lives of four oil workers.
Are these stocks a buy or sell? Let us help you decide.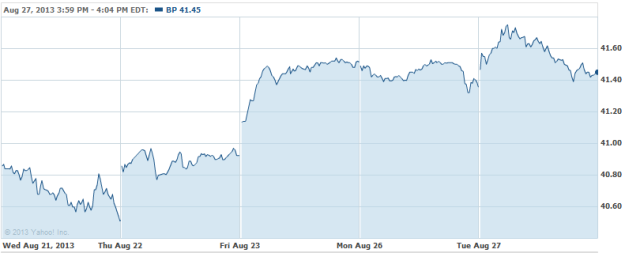 Chevron Corp. (NYSE:CVX): Closing price $118.81
On Tuesday, Total SA reported that it will acquire Chevron Corp.'s Egypt retail and aviation units, representing the French oil major's second purchase in Egypt in 2013. Total and Beltone Private Equity managed funds will buy 66 service stations, two oil depots, and aviation fuel operations at the Cairo and Marsa Alam airports, said a joint e-mailed statement. The transaction should make Total Egypt the number-one marketing and services subsidiary of its parent firm outside of Europe.
Are these stocks a buy or sell? Let us help you decide.