4 Energy Stock Stories To Start Off the New Trading Week
Petroleo Brasileiro – Petrobras (NYSE:PBR): Closing price $15.37
The government of Brazil will permit the state-run energy major Petroleo Brasileiro SA, or Petrobras, to raise gasoline prices by October 21, according to the Estado de Sao Paulo on Monday. A price rise of around 8 percent for gasoline at the refinery gate would help reinforce Petrobras's finances prior to the sale of Brazil's biggest offshore oil find through new production-sharing agreements also set for the same date. Under the terms, Petrobras is required to hold a 30-percent stake and operate the field, known as Libra and calculated to hold between 8  and 12 billion barrels of recoverable oil. The company sells gasoline at around a 30-percent discount to world benchmark prices, with the government hesitant to allow higher prices lest it stoke inflation.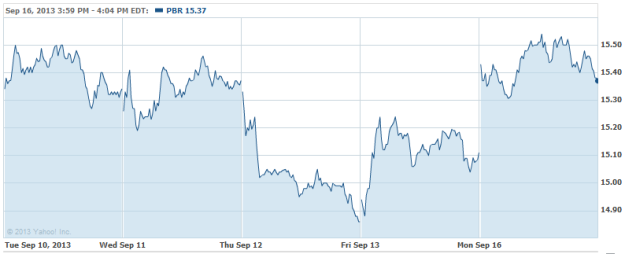 Royal Dutch Shell (NYSE:RDSA): Closing price $65.25
Shell has reopened its 150,000-barrel-per-day Trans Niger pipeline in Nigeria, which had been closed for almost two months. Reuters cited a Shell spokesperson as announcing that the pipeline reopened on September 8, adding that a force majeure declared in April on Nigeria's benchmark Bonny Light crude oil grade stayed in place. Shell shut in the TNP in July after a leak on the Bomu-Bonny section at Owokiri, which was discovered to be caused by a six-inch crude theft valve being placed on the line.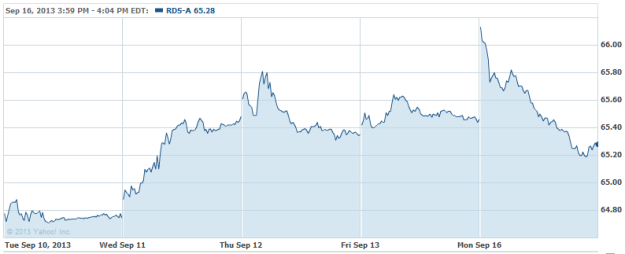 Pembina Pipeline Corp. (NYSE:PBA): Closing price $31.28
On Monday, Pembina announced that it will go forward with a $115-million expansion of its Peace Pipeline System between Simonette and Fox Creek, Alberta. Responding to requests from area producers for firm service, the Simonette Pipeline Expansion should initially deliver roughly 40,000 barrels per day of additional liquids to Pembina's Fox Creek Terminal. There, this incremental production will access Pembina's previously reported Phase I and II Peace Pipeline mainline expansions from Fox Creek to the Edmonton area markets.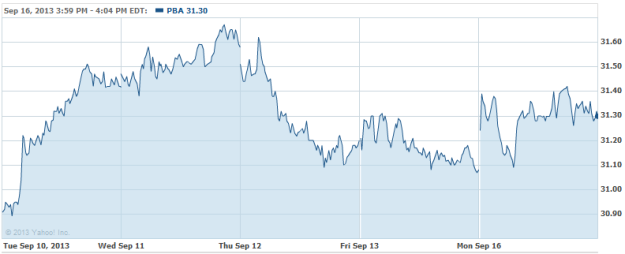 Apache Corp. (NYSE:APA): Closing price $87.00
Analyst Arun Jayaram at Credit Suisse, in a report published Monday, reiterated an Outperform on Apache and raised the price target from $100 to $104. Writing in the report, Jayaram noted that, "Despite the recent rally in APA shares, we believe there is a bit more left in the tank. We reiterate our Outperform rating and raise our 12-month target price to $104 from $100 per share reflecting the higher valuation for Egypt as implied by the Sinopec transaction. Our target price is at parity with  our revised NAV. While we are in the later innings of our 'self help' thesis, we believe upside from the company's key."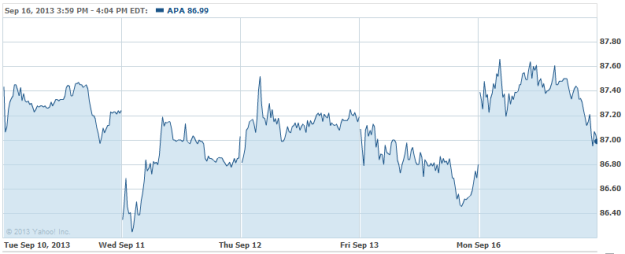 Don't Miss: Will BP and the UK Be Exempt from Iranian Sanctions?