4 Energy Stock Stories to Start the New Quarter
Enbridge Inc. (NYSE:ENB): Closing price $41.09
Enbridge intends to build a new pipeline to carry diluent, which is used to thin-out oil sands bitumen so that it can flow through pipelines to industry players in northern Alberta. The company plans a 200,000-barrel-per-day conduit having a price of $1-billion, according to Senior Vice President, Business and Market Development Vern Yu. Depending on how much the industry wants the pipeline, it could be expanded to 300,000 barrels per day. Yu told Enbridge's investor day in Toronto that on tradition, oil sands producers have employed pipelines dedicated to each of their projects so as to bring in diluent.

Total SA (NYSE:TOT): Closing price $58.11
Chief Executive Christophe de Margerie said Tuesday that the French oil major is exploring shale gas opportunities in the United Kingdom, making the first strong indication of interest from a big oil player in the U.K.'s nascent industry. De Margerie said that his company is in discussions to take an interest in a project in the U.K. and is also considering bidding in next year's onshore licensing round. He would not say which company or companies are involved in the talks with Total, which would be the first oil major to enter the country's industry.

Chevron Corp. (NYSE:CVX): Closing price $121.32
On Tuesday, Chevron secured a liquefied natural gas supply arrangement with Japan's Tohoku Electric Power for supplies from its $29-billion Australian Wheatstone LNG project for up to 20 years. Through the terms, Chevron will provide Tohoku with 0.9 million tons of liquefied natural gas annually. With Tohoku's supply agreement, Chevron said that it has now divested 85 percent of the gas from its Wheatstone project to Asian customers via long-term contracts.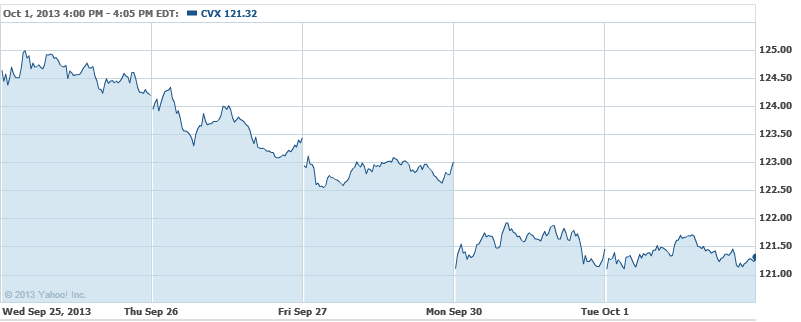 Nabors Industries Ltd. (NYSE:NBR): Closing price $16.50
Nabors reported Tuesday that Bristol Bay Native Corporation has reached a definitive agreement with Nabors' Alaska Services Corp. to purchase a 100-percent ownership interest in Peak Oilfield Service Company LLC. The acquisition is subject to the usual closing conditions and should close during the fourth quarter. Financial terms were not divulged.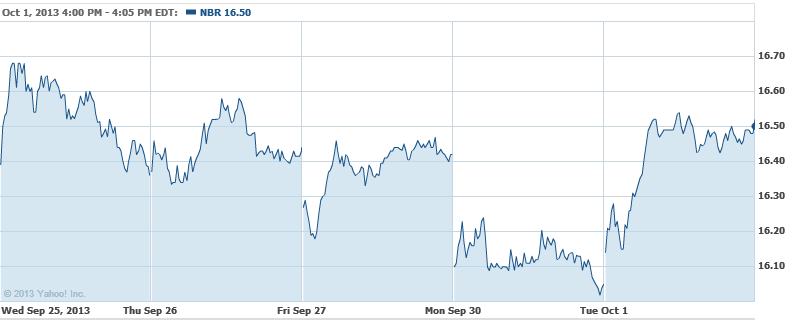 Investing Insights: Should You Consider BP Stock?