4 Energy Stock Stories to Stimulate Interest
Statoil (NYSE:STO): Closing price $26.48
The Petroleum Safety Authority of Norway has delivered to Statoil an improvement order following a serious gas leak at its Heimdal platform in 2012. The move is subsequent to an inquiry by the regulator that revealed "serious regulatory breaches" by the company which led to the  May 26th incident in which 3,500 kilograms of gas escaped, posing a potentially combustible cloud around the facility.
Statoil has until March 1st to establish why such its safety measures have failed to have an effect at Heimdal,  and to ensure they are effective in future.

Are these stocks a buy or sell? Let us help you decide. Check out our Stock Picker Newsletter now.
McDermott International
(
NYSE:MDR
): Closing price $11.95
Engineering group McDermott International wins a
key contract
for Petronas' Kepodang gas development off of Indonesia. Senior Vice President Scott Cummins said that the award in what was a competitively tendered project was "not only a strong testament of our capabilities [but] also shows the client's confidence in our ability to deliver the best value, adding that procurement engineering was already ongoing with fabrication to be completed at McDermott's local Batam yard."
Further, McDermott has been hired by Petronas to develop offshore surface facilities and an infield flowline for the field, which is located about 180 kilometers northeast of of Semarang, Central Java, in water depths of up to 70 meters.

Denbury Resources (NYSE:DNR): Closing price $18.59
The firm announced Monday that its total estimated proved oil and natural gas reserves at December 31st were 409 million barrels of oil equivalent, comprised of 329 million barrels of crude oil, condensate and natural gas liquids, and 482 billion cubic feet of natural gas.
Reserves were 80 percent liquids and 60 percent proved developed, and 49 percent of such reserves were due to Denbury's carbon dioxide enhanced oil recovery operations. Almost  all of Denbury's reserves not attributable to carbon dioxide EOR operations at year-end 2012 relate to planned future CO2 EOR operations.

Noble Corporation (NYSE:NE): Closing price $40.73
On Monday, Noble reported that its board will recommend that shareholders okay an increase in its dividend for the 2013-2014 dividend cycle. The proposed rise will be submitted for shareholder approval and authorization at the annual general meeting in April. The proposed dividend would be in the amount of $1 per share and would be funded from the firm's capital contribution reserve.
If approved, the dividend will be paid in four equal installments of 25 cents per share with expected payment dates in August 2013, November 2013, February 2014 and May 2014.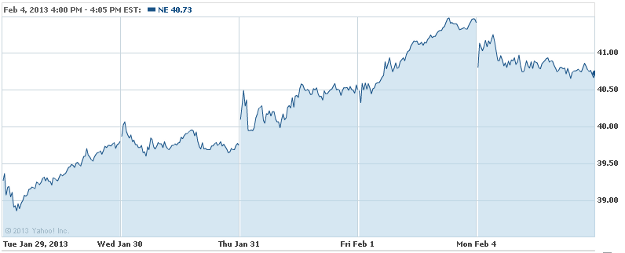 Don't Miss: Will Chevron Outperform the Other Supermajors?