4 Energy Stock Stories to Take On the Road
BP (NYSE:BP): Closing price $42.08
During cross-examination on Wednesday, BP executive James Dupree said that the company could have stopped its massive oil spill in the Gulf of Mexico more quickly if it had constructed a capping stack prior to the blowout. Dupree led BP's attempts to plug its Macondo well and said engineers did not possess the equipment required to attack that particular well at the time of the blowout, and thus had to come up with several possible solutions "on the fly." The executive added that it would have been relatively inexpensive for BP to have built a capping stack before the Deepwater Horizon disaster.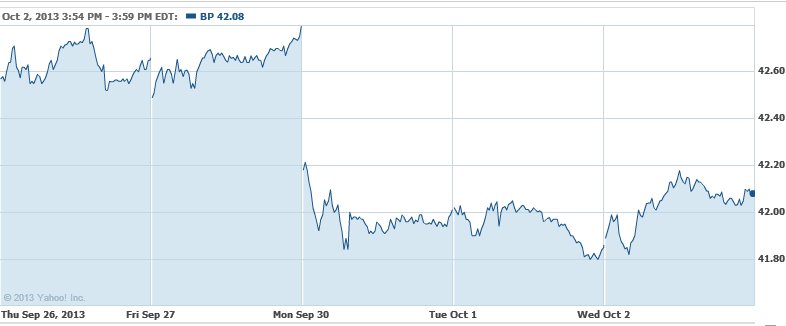 TransCanada Corp. (NYSE:TRP): Closing price $43.74
Oil futures moved higher on Wednesday after TransCanada said the southern leg of its Keystone XL pipeline is almost complete, and traders bet that the construction will help alleviate a glut of supplies at a crucial United States storage  hub. Concurrently, a weekly government inventory report indicated another modest decline in crude stockpiles at Cushing, Oklahoma, the physical delivery point for New York Mercantile Exchange oil futures. TransCanada said the Gulf Coast leg of the 700,000 barrel-per-day pipeline project is 95 percent complete, but it will not begin carrying oil until after his month.

Royal Dutch Shell (NYSE:RDSA): Closing price $65.43
Royal Dutch Shell has commenced output at the second developmental phase of a block off Brazil's shore. Phase two of development on Block BC-10, also known as Parque das Conchas, entails a fourth reservoir linked to a floating production, storage, and offloading unit on the field. Shell is the operator of the block with 50 percent and Petrobras with 35 percent; Indian's Oil & Natural Gas Corp. owns 15 percent.

Tesoro Corp. (NYSE:TSO): Closing price $43.33
Analyst Faisel Khan at Citi on Wednesday upgraded Tesoro Corp. from Neutral to Buy, saying that the gasoline refiner and seller should receive a boost from an economic recovery in California. Khan noted that Tesoro acquired a refinery in Carson City, California, that will double its capacity in that state. He also noted that, thus far, California's economic recovery has been biased toward the northern part of the state, where gasoline demand is far lower than in the southern part.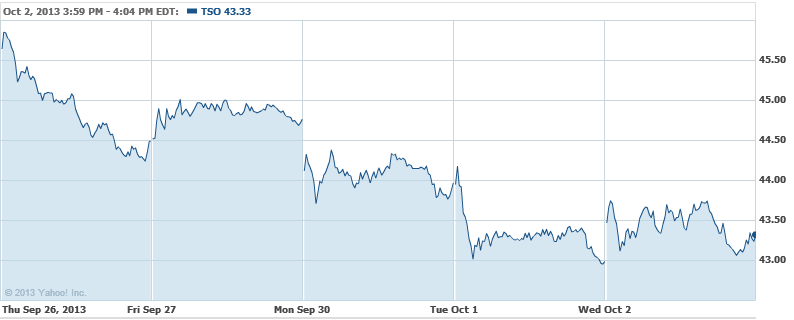 Don't Miss: The 11 Top-Selling Cars and Trucks for September