4 Financial Stock Stories for Alert Investors
Goldman Sachs Group (NYSE:GS): Closing price $133.05
Goldman Chief Executive Lloyd C. Blankfein has ceased using its own money to make bets on the bank's behalf, saying that "We shut off that activity." The bank has no longer proprietary traders who "just put on risks that they wanted and didn't interact with clients." The remarks were made to more than 400 persons at a lunch organized by the Economic Club of Washington. However, Bloomberg has uncovered a secretive Goldman Sachs group known as Multi-Strategy Investing, or MSI, which wagers about $1 billion of the firm's own funds on the stocks and bonds of companies, that include a mortgage servicer and a cement producer, said more than 20 people who worked for and with the group, as recently as 2012.
Fifth Street Finance Corp. (NYSE:FSC): Closing price $10.80
Fifth Street said on Tuesday that two new lenders have been added to its syndicated bank credit facility led by ING Capital (NYSE:ING), which swells the facility's size by $35 million up to $415 million. With the two new lenders, the syndicated bank credit facility now includes 12 lenders, matures on November 30, 2016 and contains an accordion feature permitting potential future expansion up to $600 million.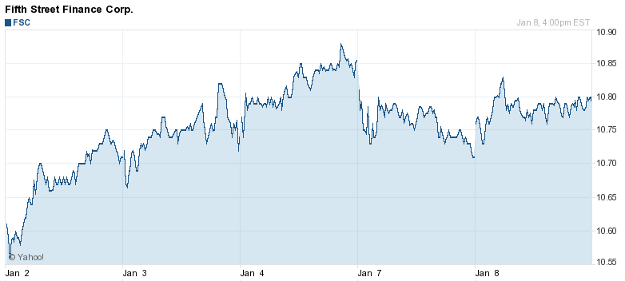 Are these stocks a buy or a sell? Let us help you decide.  Check out our Wall St. Cheat Sheet Stock Picker Newsletter now>>
Ellington Financial (NYSE:EFC): Closing price $23.57
On Tuesday, Ellington said that its estimated book value per common share as of December 31st, stood at $24.84, or $24.37 on a diluted basis. These estimates are subject to change at the completion of the firm's year-end valuation procedures.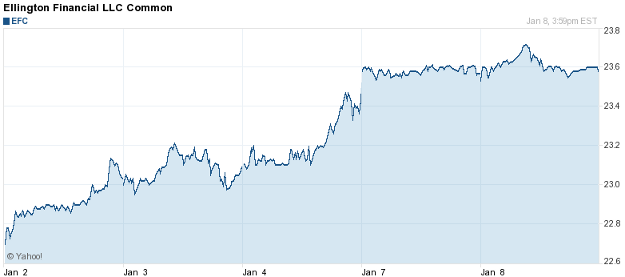 Fifth Third Bancorp (NASDAQ:FITB): Closing price $15.44
Again on Tuesday, the bank's website was shut down by a cyber attack, marking the second time in five days, after it suffered a major 'denial of service cyber attack' last Thursday. Tuesday's event caused the website to shut down for more than an hour around midday. The attacks works when hackers launch a wave of attempts to contact a website; when too many requests come in at once, the site can't handle all of that traffic and it simply shuts down. Fifth Third is the biggest locally based bank in Greater Cincinnati.
Don't Miss: Why Are Regulators Easing Up on Banks?