4 Financial Stock Stories for Close Attention
JPMorgan Chase & Co. (NYSE:JPM): Current price $46.76
The firm's Chief Risk Officer John Hogan will take a temporary leave for personal reasons starting later this week, according to a memo to staff, saying that, "I'm looking forward to taking this time off to spend with my family and friends." Deputy Risk Officer Ashley Bacon will fill in until Hogan returns in the summer. Hogan, had previously served as chief risk officer for the investment bank, taking that  post a year ago, some three months before JPMorgan reported a large and illiquid trading position at the chief investment office.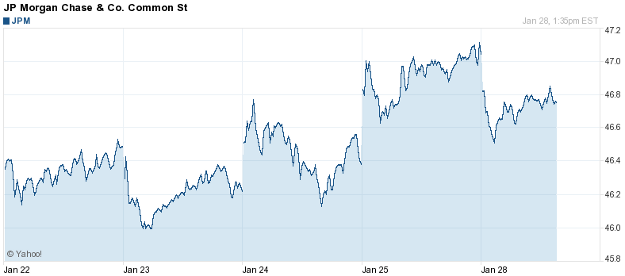 Are these stocks a buy or sell? Let us help you decide. Check out our Stock Picker Newsletter now.
Credit Suisse Group (NYSE:CS): Current price $29.39
United States District Judge James Graham said on Saturday that because New York state law governs apportionment of fault in the case of noteholders suing the bank in regards to fraud at National Century Financial Enterprises, Credit Suisse will be liable for 100 percent of its former Chief Executive Lance Poulsen's share of damages. Attorneys for the plaintiffs estimate that damages that could be awarded of a figure at more than $2 billion. The judge commented that "If the jury finds at trial that Credit Suisse and Poulsen each committed fraud that caused plaintiff's losses, then under New York law Credit Suisse will be liable, as to plaintiffs, for 100 percent of Poulsen's share."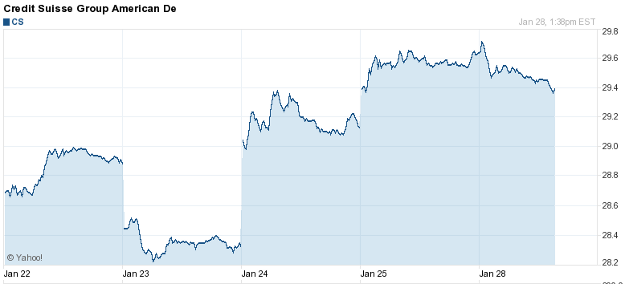 Bank of America Corporation (NYSE:BAC): Current price $11.48
BofA board member David Yost purchased 20,000 shares of common stock in the firm last Thursday, pushing his position to a bit over 44,000, according to a Securities and Exchange Commission Form 4.
Essex Property Trust (NYSE:ESS): Current price $153.94
Barclays commented that, "An apartment company focused on high barrier to enter West Coast markets, Essex, is our top stock pick for 2013. In our view, Essex is poised to generate better-than-average same-store NOI growth in 2013 and 2014, driven by the company's exposure to northern and southern California and Seattle – all markets with better than average employment growth, often technology related. Our $181 12-month price target implies a 21.4 percent total return, including the 2.9 percent dividend yield. Further, we project a 7.6 percent annual five-year dividend growth rate."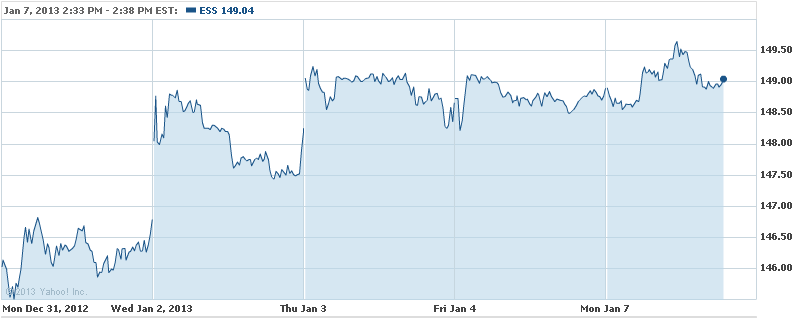 M
Don't Miss: How Will Euro Banks Be Restructured?