4 Financial Stock Stories for Important Investor Information
The Royal Bank of Scotland Group (NYSE:RBS): Current price $10.80
There were a large number of documents published this week in connection with the endeavors by RBS to rig the Libor, but the only trader pointed out by name was the "Rain Man", Tom Hayes. Regulators say that Hayes was the connection among pervasive attempts by several banks to swell their trading profits by manipulating the rate and that he was the one who moved from one bank to the other with the contracts.
Are these stocks a buy or sell? Let us help you decide. Check out our Stock Picker Newsletter now.

Goldman Sachs Group (NYSE:GS): Current price $151.50
For the past 20 years, Goldman pursuaded its clients to invest in its private-equity funds, given the assurance that the firm itself and its partners were in the same boat as it invested heavily in the funds as well. The upcoming "Volcker rule" should force Goldman and others to significantly reduce their  investments in their own funds and this new reality is forcing Goldman to make major modifications in a $50 billion business from which it has reaped big bucks for itself and for its employees and clients.

JPMorgan Chase & Co. (NYSE:JPM): Current price $48.61
JPMorgan has reclaimed the top title by market value as investors expect on a rebound by investment banking, says Bloomberg. Shares are up 2.4 percent this week, valuing the bank at $185.04 billion as of Friday and surpassing the $184.2 billion for Wells Fargo & Co.

McGraw-Hill Companies (NYSE:MHP): Current price $42.72
This week, New York state Attorney General Eric Schneiderman issued a subpoena to McGraw-Hill's unit Standard & Poor's, said an inside source to Reuters. What is more, his office sent formal requests for information to two other major credit rating agencies, Moody's Corporation (NYSE:MCO) and Fitch Ratings. The officer wants information in regards to the agencies' behaviors in rating mortgage-backed securities and as to whether the firms kept agreements in 2008 to make certain reforms.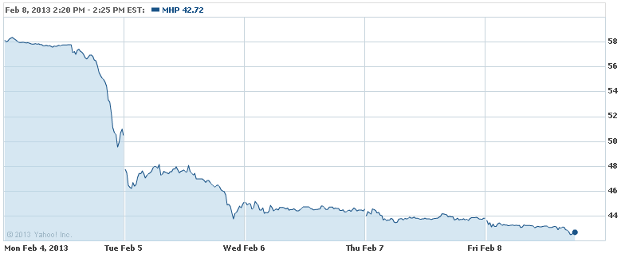 Don't Miss: Goldman Sachs Bids Its Cash Cow a Fond Farewell.