4 Financial Stock Stories for Investors to Follow
Goldman Sachs Group (NYSE:GS): Current price $144.32
Pressure from investors to reduce costs had gone unattended by the top executives at Goldman until this week. The officers are said by sources to finally have given in to cuts to staffing levels and compensation, although for the past two years they had opposed such measures on the grounds that if they reduced staff too much they would then be unprepared when the economy turns around and business returns, according to Reuters.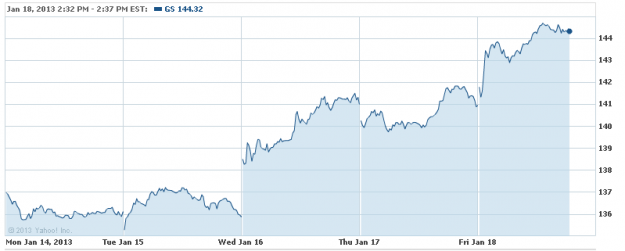 Are these stocks a buy or sell? Let us help you decide. Check out our Stock Picker Newsletter now.
E*TRADE Financial Corporation (NASDAQ:ETFC): Current price $10.12
On Thursday, E*TRADE reported that its board named Paul T. Idzik as its chief executive, effective January 22nd. Interim Chief Executive Frank J. Petrilli, who has served in that position since August, will continue as chairman. In addition, Rodger A. Lawson will step down as lead independent director, but will remain on the board. Idzik was also appointed president of E*TRADE Bank and will serve on its and E*TRADE Bank's boards of directors.

BlackRock (NYSE:BLK): Current price $232.72
In comments taken from its fourth quarter earnings conference call, the firm says that its clients are returning to equities, given their relative values in comparison to fixed income assets. In addition, BlackRock is saw positive asset flows across all channels in fourth quarter and that emerging markets including China will be the area of focus.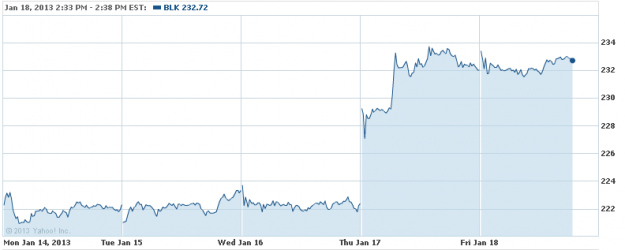 Wells Fargo & Co. (NYSE:WFC): Current price $34.71
A company executive has revealed plans for Wells to start its own aircraft-leasing firm, in effect switching its concentration from lending to ownership in the $100 billion-a-year market for financing commercial jets. For many years, domestic  commercial banks have been active lenders to airlines, but Wells Fargo is the first in 20 years to search out ownership risk so as to boost returns from its balance sheet. This initiative by the bank is a year following the company losing out to three Japanese institutions who consented to pay $7.3 billion for the aircraft-leasing unit of Royal Bank of Scotland Group.

Don't Miss: Will These Results Raise Eyebrows on Wall Street?