4 Financial Stock Stories for Investors to Know
Deutsche Bank (NYSE:DB): Closing price $49.44
Unitech, a property developer in India, which is suing Deutsche in regards to an interest-rate swap agreement, has advised a judge in the United Kingdom that it wants to add claims to the lawsuit that the lender manipulated Libor. The plaintiff's $150 million loan and related swap contract is invalid as they were linked to Libor, which had been improperly fixed by banks that included  Deutsche Bank, say the company's filings for a London court hearing on Monday. In March 2012, DB sued the Indian firm, saying that it owed $11 million under the swap and had missed payments; Unitech countersued in May alleging the swap was not suitable or properly explained.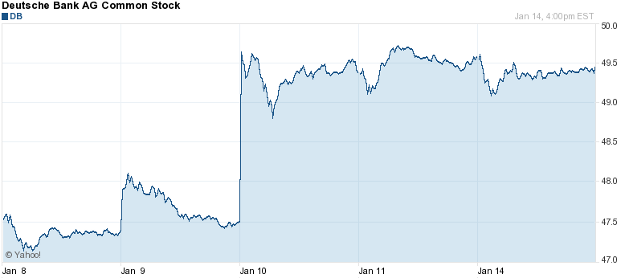 Are these stocks a buy or sell? Let us help you decide. Check out our Wall St. Cheat Sheet Stock Picker Newsletter now >>
Chimera Investment Corporation (NYSE:CIM): closing price $2.73
On Monday, Chimera reported that it has received an additional 30-day extension for continued listing and trading of its stock on the New York Stock Exchange. The extension is subject to review by the Exchange on an ongoing basis, and allows the Company until February 15th to file its 2011 Annual Report on Form 10-K with the Securities and Exchange Commission. During this period, trading of the shares on the NYSE will remain unaffected.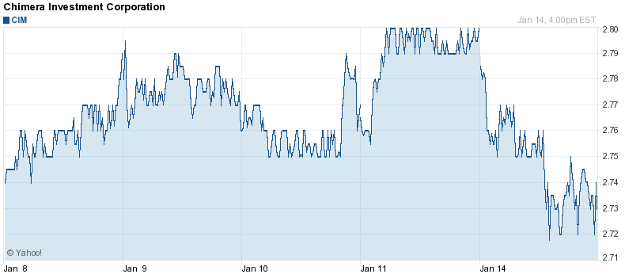 Bank of America Corporation (NYSE:BAC): Closing price $11.47
The company is set to release its fourth quarter results on Thursday, but during the past month expectations have slipped, as the consensus analyst estimate has fallen from 20 cents to the present estimate of 2 cents per share. Analysts' forecasts are down by 86.7 percent year-over-year from 2012, when BofA posted earnings of 15 cents per share.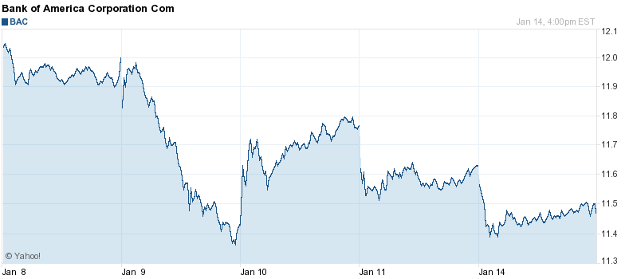 Morgan Stanley (NYSE:MS): Closing price $20.07
This week, the company intends to eliminate 15 percent of its investment banking positions in Asia, according to knowledgeable sources, who identified the Asian Managing Directors Saul Raccah and Leon Guo as among investment bankers who will exit the  firm. There was no comment from Xu Li, a Beijing-based spokeswoman, but the sources added that the job cuts in Asia investment banking will be greater than the 6 percent slash to be made across the broader institutional securities group, among which include research and investment banking, and fixed-income and equity sales and trading.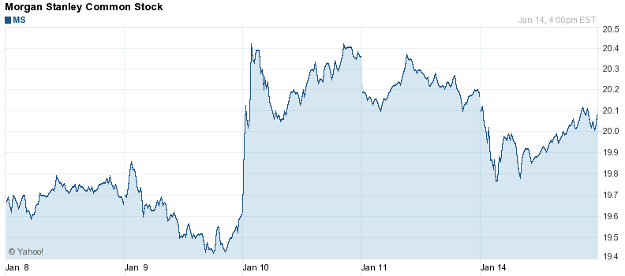 Investing Insights: Are You Ready for These 5 Banks to Report Earnings?