4 Financial Stock Stories for Midweek Attention
Lloyds Banking Group (NYSE:LYG): Current price $3.31
Lloyds reported on Wednesday that it was slashing 940 jobs, which brings the total amount eliminated since its ill-fated takeover of HBOS in 2009 to in excess of 31,000. The firm also said that the move is a part of the reductions previously announced in its strategic review and that the jobs lost would occur in its wealth, insurance, operations, retail, international and commercial divisions. In June 2011, Lloyds has said that it would save £1.5 billion pounds by letting 15,000 of its staff go. In reaction, the British trade union Unite commented in a statement that, "It is a complete disgrace that the bank, which is 41 percent owned by the taxpayer, continues to cut jobs in such a cavalier way."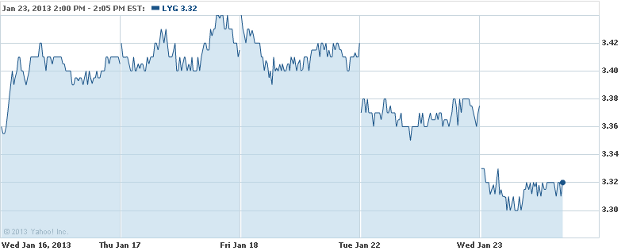 Are these stocks a buy or sell? Let us help you decide. Check out our Wall St. Cheat Sheet Stock Picker Newsletter now >>
AMREP Corporation (NYSE:AXR): Current price $9.72
On Wednesday, the firm said that Vice Chairman of the Board Nicholas G. Karabots and President and Chief Executive Theodore J. Gaasche, effective at the close of business January 22nd, resigned from their positions with AMREP. At the same time, Gaasche was named by the board as a company director to fill the vacancy created by Karabots' resignation, and was also chosen vice chairman of the board's Executive Committee.

PNC Financial Services Group (NYSE:PNC): Current price $61.78
Shares of PNC were downgraded Wednesday at CLSA, which pointed to upcoming margin declines and also current pressures on traditional banking. In addition, the stock's price target was cut from $68 to $66.
JPMorgan Chase & Co. (NYSE:JPM): Current price $46.27
Some 121 positions will be lost as a unit of JPMorgan Chase closes a Coppell facility. In a letter to the Texas Workforce Commission, the firm reported that its "Independent Foreclosure Review" unit will start layoffs about March 10th at the Coppell office in Dallas, saying that "The terminations from the mortgage bank's independent foreclosure review business will be permanent as the business has ceased to exist."
Investing Insights: Is TD Ameritrade Sending Mixed Signals?