4 Financial Stock Stories for Must Reading
American International Group (NYSE:AIG): Closing price $35.76
Members of the board of directors of AIG have decided against joining in the Starr International lawsuit which alleges that the United States government took advantage of the firm during its bailout from the financial crisis. The members were presumably quite leery of getting the company involved in a move that is extremely controversial.

Bank of America Corporation (NYSE:BAC): Closing price $11.43
The United States Attorney for the Southern District of New York, Phreet Bharara, is pressing ahead with more lawsuits against Bank of America, for allegedly divesting fraudulent loans to Fannie Mae and other such enterprises, according to his office to the Charlotte Business Journal. In October, Bharara charged the firm with fraud, bringing a $1 billion federal lawsuit, claiming in court documents that BofA had sold government agencies billions of dollars in mortgages which were advertised as satisfying government standards. However, the actual suit contends that the loans were missing the proper documentation and underwriting.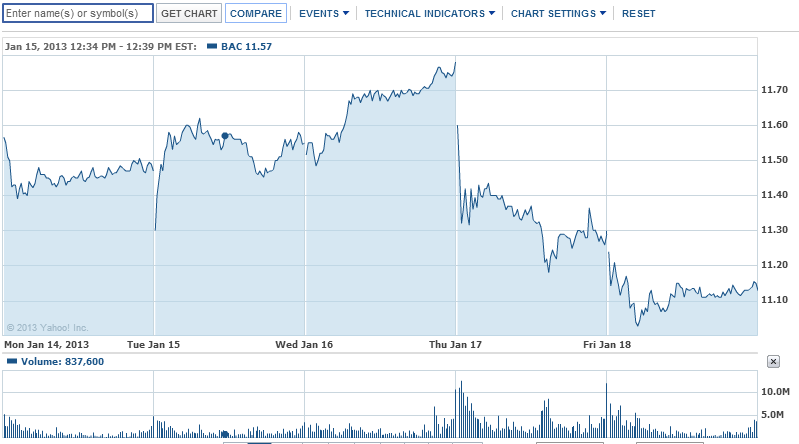 Are these stocks a buy or sell? Let us help you decide. Check out our Wall St. Cheat Sheet Stock Picker Newsletter now >>
JPMorgan Chase & Co. (NYSE:JPM): Closing price $45.47
On Wednesday, JPMorgan Asset Management announced that as of January 14th, the JPMorgan Prime Money Market Fund, JPMorgan Liquid Assets Money Market Fund, and the JPMorgan Current Yield Money Market Fund will calculate their Market-Based NAVs per share to four decimals at the funds' close of each trading day, and post it the following business day on its website. This additional disclosure should supply investors with greater transparency as to the Market-Based NAV's fluctuation, but will not alter the funds' existing goal of maintaining $1-stable NAV.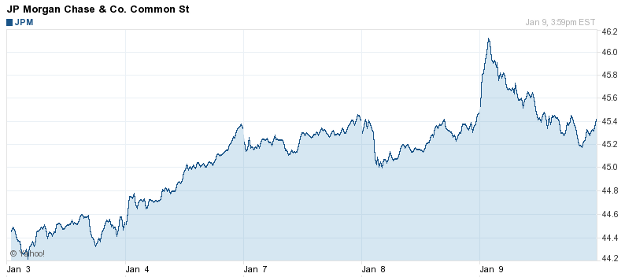 Prudential Financial (NYSE:PRU): Closing price $56.31
On Wednesday Deutsche Bank began coverage on shares of Prudential Financial with a Buy, and a price target of $67. The company's operating earnings forecast estimates for its fiscal years 2012 through 2014 are $6.15, $7.85 and $9.05, respectively, which imply an above-group-average growth.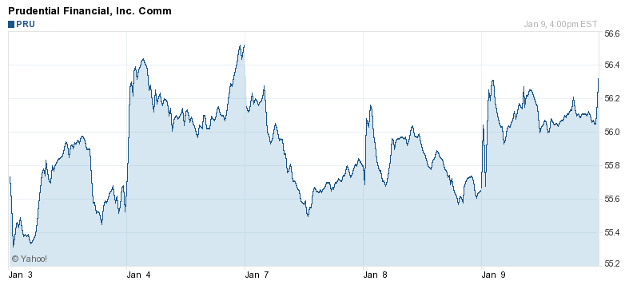 Don't Miss: Is There a Light at the End of BAC's Litigation Tunnel?