4 Financial Stock Stories for TGIF
Deutsche Bank (NYSE:DB): Current price $52.66
Europe's largest bank by assets will tell its employees, probably next week, that it will impose a €300,000 company-wide cap on bonuses being paid in 2013, according to knowledgeable sources, who also said that senior staff ("regulated" employees) will receive up to  €150,000 in cash with the remainder available in shares in August. Banks on the continent are being pressed to pull back compensation and link it more closely to performance, subsequent to large cash payouts being blamed for encouraging the type of risk-taking that led to the 2008 collapse of Lehman Brothers Holdings and the financial crisis.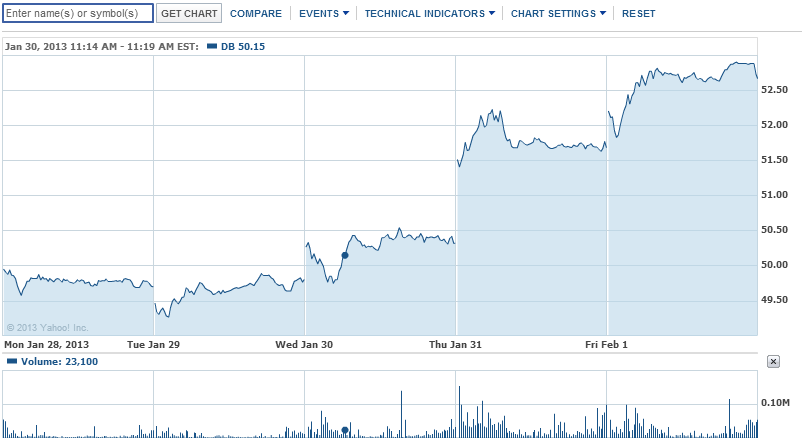 Are these stocks a buy or sell? Let us help you decide. Check out our Stock Picker Newsletter now.
Barclays (NYSE:BCS): Current price $18.95
Authorities in the United Kingdom are examining an claim that Barclays loaned money to Qatar to invest in the bank as part of its cash call at the peak of the financial crisis in 2008, which subsequently permitted it to avert a UK government bailout. The allegations related to a loan to Qatar marks a new twist to inquiries into Barclays that the Financial Services Authority and the Serious Fraud Office have been making since the summer, according to two inside sources  to the Financial Times. If the new charges are upheld, such an arrangement could contravene market regulations if it was not properly reported at the time.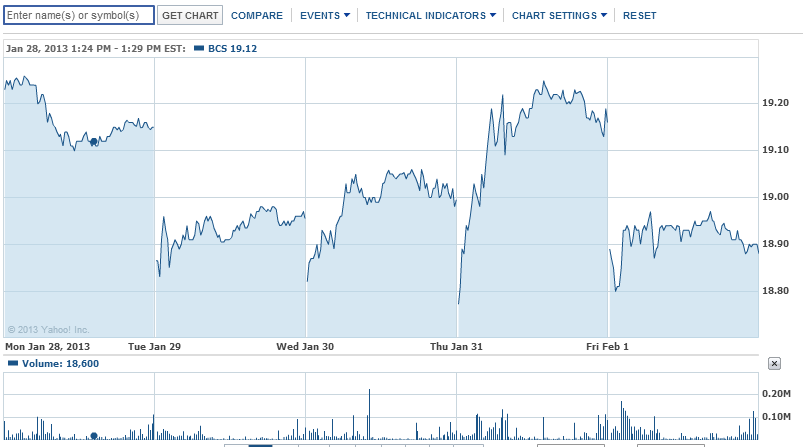 Banco Bilbao Vizcaya Argentaria (NYSE:BBVA): Current price $10.02
In 2012, the Spanish bank earned €1.68 billion, which was down by 44.2 percent year-over-year from 2011, following its  completion of all real estate-related provisions in Spain. Subtracting such charges and the bad PR brought by Unnim's incorporation, the adjusted profit was €4.41 billion, down a far less onerous 2.2 percent for the same period. All of the group's business areas added to income growth in 2012.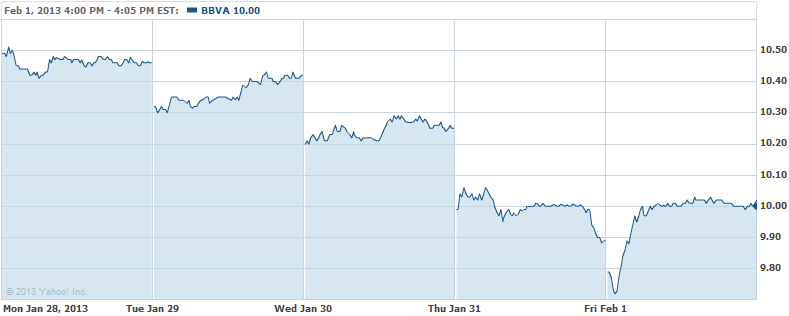 Capital One Financial Corporation (NYSE:COF): Current price $56.75
On Friday, the corporation announced that Stephen S. Crawford will join the company as its chief financial officer designate on February 4th and will also become a member of the Executive Committee, reporting to Capital One's Chairman and Chief Executive Richard D. Fairbank. In May, Crawford will replace Chief Financial Officer Gary L. Perlin who will retire. Perlin will continue to work with Capital One as a Senior Advisor to the CEO through February 1, 2014.
Don't Miss: Here's Why the Unemployment Rate is Back Up.