4 Financial Stock Stories for the Weekend
Lloyds Banking Group (NYSE:LYG): Closing price $3.42
Lloyds and The Royal Bank of Scotland Group (NYSE:RBS) have been warned by regulators in the United Kingdom that March is the final deadline to contend with an impending financial 'black hole' that was caused by the undervaluing of bad debts. This latest warning came at the same time that the government had overpaid while rescuing the banks in 2008. As a result, Britain's banks may now have to come up with large amounts of capital in a short period, to ensure that they remain solvent, according to officials at the Bank of England, who did confirm that the shortfall was substantial.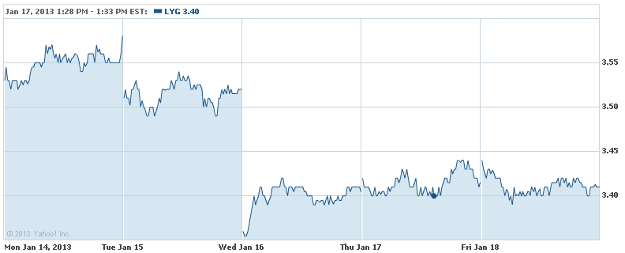 HSBC Holdings (NYSE:HBC): Closing price $55.30
HSBC joins the agreement in principle announced by the Federal Reserve Board and the Office of the Comptroller of the Currency on January 7th, and thus will pay $249 million in cash payments and other assistance to aid mortgage borrowers. Earlier in January, the government bodies said that they reached agreements in principle with 12 other lenders in the United States. With the addition of HSBC, almost 4.2 million borrowers will receive an aggregate sum of $3.6 billion in cash compensation while another $5.7 billion will be provided by the servicers for mortgage assistance.

Are these stocks a buy or sell? Let us help you decide. Check out our Wall St. Cheat Sheet Stock Picker Newsletter now >>
Bank of America Corporation (NYSE:BAC): Current price $11.14
Several of the big banks are getting back to normal after more than four years after the financial crisis, but BofA and Citigroup are still having difficulties related to the past events. On Thursday, the two firms reported that substantial legal costs have undercut their fourth-quarter earnings, saying that the expenses originated in huge settlements involving their mortgage businesses.

Assured Guaranty (NYSE:AGO): Closing price $15.00
The municipal-bond insurer has seen its rating of the parent company downgraded by Moody's Investors Service two levels to Baa2, which is two notches above junk, pointing out in a statement the industry's "dramatic decline" since the subprime mortgage crisis. Concurrently, subsidiaries Assured Guaranty Municipal Corp. and Assured Guaranty Corp. had their insurance financial strength ratings lowered two steps to A2 and three levels to A3, respectively. The parent firm said that its credit downgrade by was not justified and indicated a "serious flaw" in Moody's rating process.

Don't Miss: Will These Results Raise Eyebrows on Wall Street?